Why is electric motorcycle development behind EVs?
Bojan Popic | June 14, 2021
Electricity is a game-changing fuel source that is transforming the whole automotive industry. Tesla has become synonymous with electric vehicles (EVs). OEMs like Chevy have reliable offerings, such as the Chevy Bolt. And Ford just unleashed the first full-size electric pickup — the F-150 Lightning — to much acclaim.
However, electric motorcycle development is considerably behind the innovations of four-wheel vehicles. There are some unique challenges to developing electric motorcycles, which has hindered progress. However, some major brands have new entries, or are planning them, for the e-motorcycle market.
Contrasting electric motorcycles vs traditional motorcycles
Designing and development of any products comes with individual sets of challenges, and electric motorcycles are no exception to this rule. Among them, finding the right balance between the battery capacity and corresponding range is probably the most important one. Car and truck manufacturers can always equip their vehicles with batteries that are large enough to achieve sufficient range, due to the spaciousness of the four-wheeled platform.
In contrast, motorcycle designers have to deal with several specific difficulties here, with space limitations. Extra weight that comes with larger batteries affects handling and overall driving characteristics of the motorcycle, which is much more important when the driver must physically balance and lean the motorcycle to execute turns. A potential solution to this problem is to fit them as low as possible, which lowers the center of gravity. However, this is difficult to do on a motorcycle, because of their specific shape and layout. Most electric configurations will have batteries in the spot where the engine lays in traditional motorcycles.
Instant torque delivery is one of the most prominent signature marks that defines any vehicle that uses an electric motor. Besides improving performance and drivability, this also requires certain adjustments that will keep the power under control. This burst of power right from the start can come as a surprise to drivers accustomed to traditional ICE engines. To help cope with this potential downside, most manufacturers incorporate various forms of traction and stability programs into their motorcycles. However, this safety feature typically must not come at the expense of performance and sportiness, as that could put off potential buyers who often buy motorcycles for their performance capabilities.
(Learn more about DC electric motors on GlobalSpec.)
But just like anything else, there are several noticeable shortcomings that are worth mentioning. A common concern with all EVs are range and charging times, which may even be a substantial obstacle for some applications. Besides, advanced technologies that make these motorcycles possible come at a cost, making them more expensive to buy. Top speeds for many of them are lower from those that traditional motorcycles offer, which may be a significant downside for some drivers.
There are also several upsides that become apparent when comparing electric motorcycles to traditional ones, with their user-friendly nature being one of them. Having a conventional shape eliminates the need for gear changes and makes riding much easier for beginners. And that instant torque delivery is an additional benefit, as it improves throttle response and ensures swift accelerations. Still, features such as simple maintenance and pollution-free motoring are probably the most important strongpoints that electric motorcycles offer. Not only does this help keep the running cost down, but it also gives access to urban areas with local emission restrictions.
Today's offerings
Although electric motorcycles are not attracting riders at the same rate as EVs are, several manufacturers are producing models today, ranging from upstarts to established names.
The Harley Davidson Livewire. Source: Harley DavidsonHarley Davidson is one of the biggest names in the industry, and the LiveWire is their first electric model. This long-awaited motorcycle clearly shows how reputable manufacturers should take on the transition into the electric era. LiveWire combines the exceptional handling and built quality with superb performance and acceleration, making it one of the best on the market. This motorcycle comes with a higher price tag, but Harley enthusiasts are already accustomed to paying more.
Range: 146 miles
Top speed: 95 mph
Torque: 86 ft-lb
Power: 105 hp
Weight: 549 lb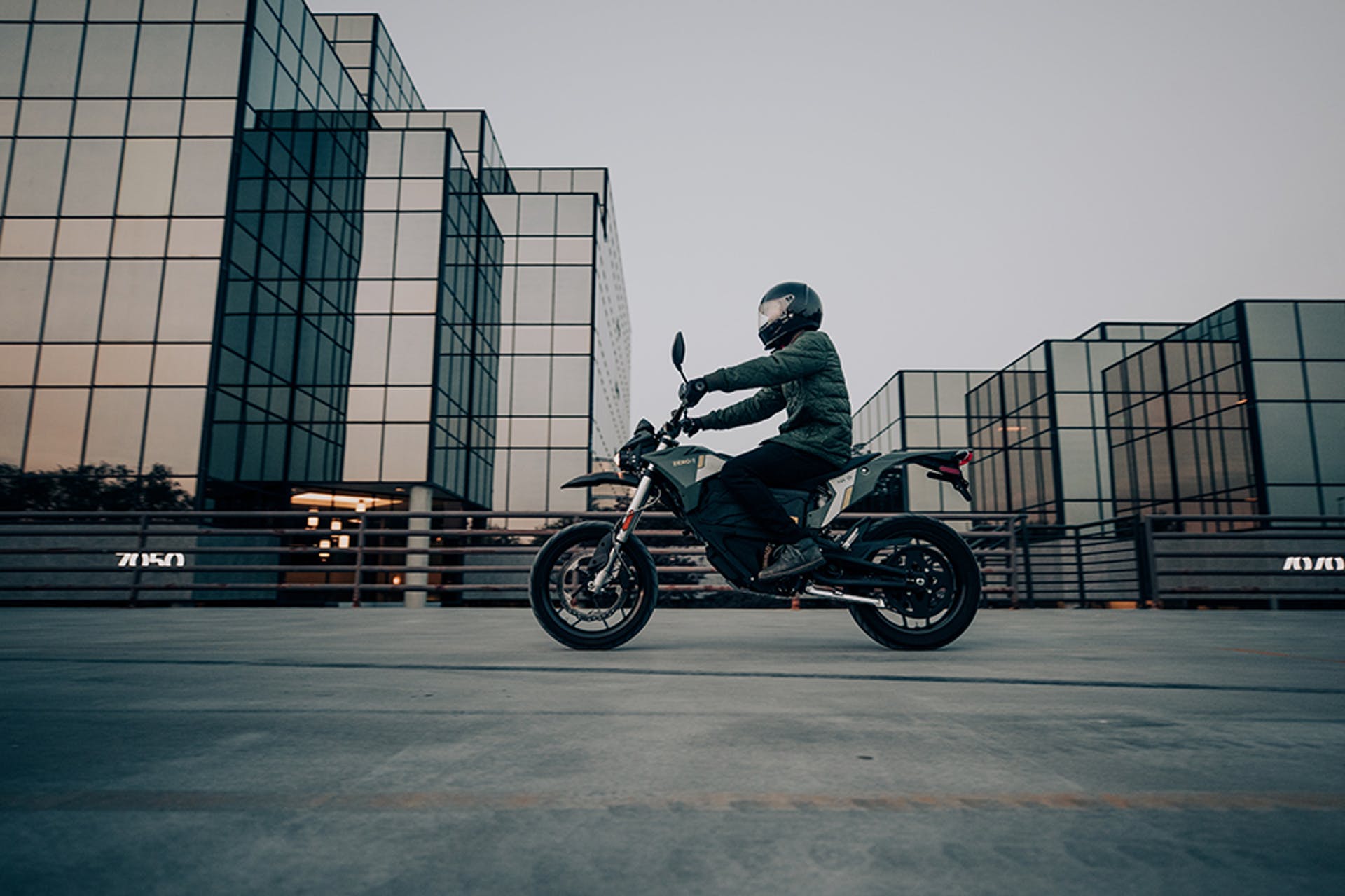 The Zero FXS. Source: ZeroZero is a manufacturer that gained a reputation for creating bare-bone motorcycles suitable for both road and trail applications. Their FXS model is one of the best examples of such a versatile and affordable vehicle. With long suspension travel and sturdy construction, this motorcycle has excellent off-road capabilities with sufficient protection against trail hazards. However, it will also perform well in urban environments, where it will allow riders to tackle all sorts of obstacles.
Range: Up to 50 miles or 100 miles with an extra battery
Top speed: 85 mph
Torque: 78 ft-lb
Power: 27 hp
Weight: 251 lb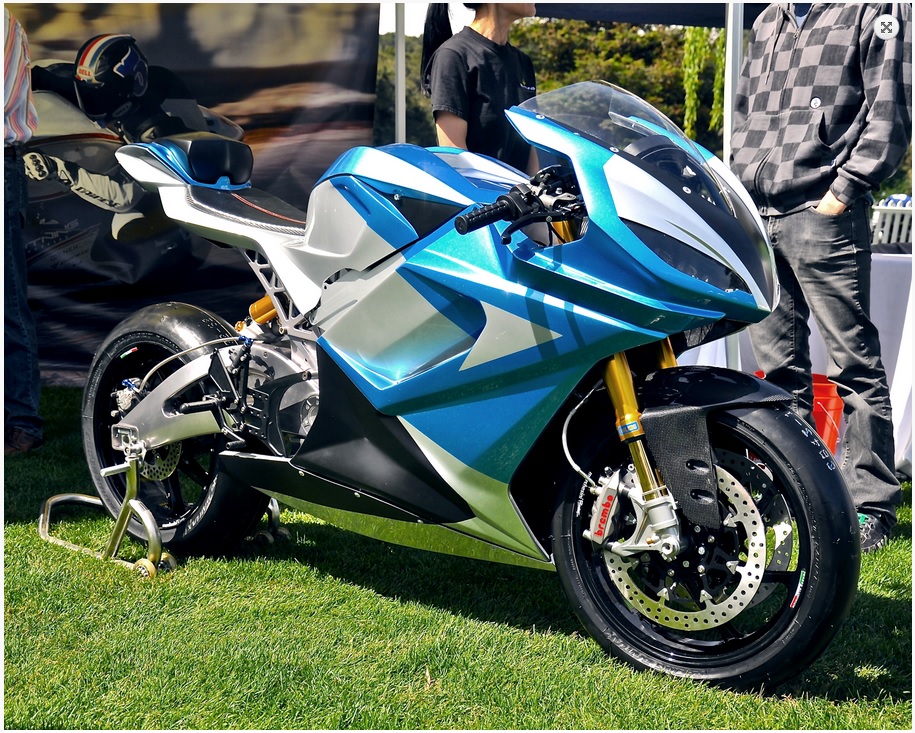 Lightning 218. Source: LightningLightning is a brand that secured its spot on the map by going to the extreme. While most electric motorcycles have a relatively limited top speed, this California-based manufacturer produces one that is quite fast. Their LS-218 has the title of world's fastest electric motorcycle, something it has been holding for 10 years now. When it comes to visual appearance, this motorcycle shares overall shape and many design details with current gasoline-powered super-bikes. The reason for this is in the aerodynamics and wind-drag reduction, which is essential when driving at high speeds.
Range: 100 miles
Top speed: 218 mph
Torque: 168 ft-lb
Power: 200 hp
Weight: 495 lb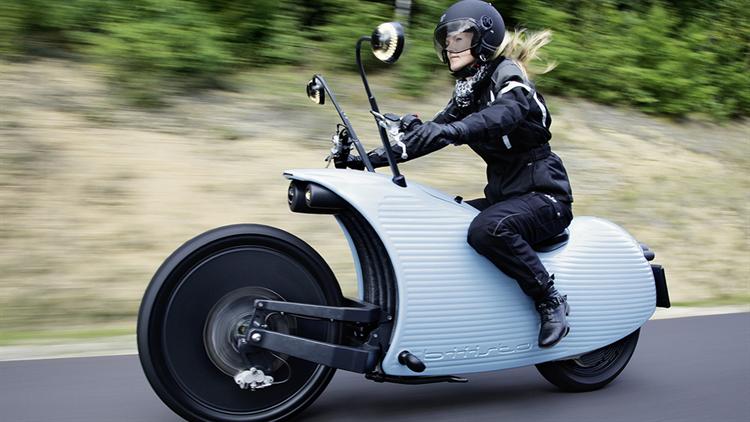 While most electric motorcycles are still quite similar to traditional ones, the Johammer J1 200 is significantly different. With a design that is unique, at least to say, it will not go unnoticed wherever its owner takes it. This is possible because the electric motor and speed control hardware are located within the rear wheel.
Range: 124 miles
Top speed: 75 mph
Torque: 14 ft-lb
Power: 21.5 hp
Weight: 390 lb
Where are the electric motorcycles?
With all benefits and downsides in mind, predicting where electric motorcycles may have the greatest potential is quite simple. They may be an ideal choice for owners that will use them in urban environments and on shorter journeys. The situation is very similar for those drivers who only go for occasional rides, such as weekend getaways or vacations. For them, having an eco-friendly and easy-to-use motorcycle that is also less demanding with maintenance will outweigh other shortcomings. However, battery capacities and charging times can be a limiting factor for some uses, where electric motorcycles may be unsuitable. As a result, electric motorcycles may not be a good option for drivers who often go on longer trips or lengthy off-road trails.
(Learn more about battery charging on GlobalSpec.)
Another obvious fact is that a range of fresh and relatively new manufacturers are currently dominating this market segment. Many big names in the industry seem as if they are not keeping up with this trend, which is not unusual. With brand perception and corresponding reputation at stake, mainstream manufacturers are always careful when incorporating new technologies. As a result, their freshly emerged competitors can be more creative with their designs and use various innovative solutions.
The only significant difference between electric motorcycles and those with ICE engines is in their drivetrains. But this creates many differences in how an electric motorcycle can be used compared to traditional fuel motorcycles. And this has stifled electric motorcycle development and market deployment.
About the author
Bojan Popic is an automotive journalist from Croatia. He has 10 years of experience in hands-on automotive diagnosis, maintenance and repair. He earned a master's degree in mechanical engineering from the Faculty of Mechanical Engineering and Naval Architecture in Zagreb, Croatia.