Video: A route to wireless charging in higher power applications
Engineering360 News Desk | June 02, 2021
Power electronics developer Eggtronic has unveiled E2WATT, a new AC power technology that will boost the power, efficiency, charging distance and data transmission capabilities of wireless charging applications.
Offering efficiency comparable with the best conventional wired AC adapters, E2WATT provides the foundation for taking future mobile charging designs into new segments including laptops, AV equipment, and even home appliances and electric vehicles.
Traditional Qi wireless power is limited by distance (usually 5 mm), and maximum power (usually up to 30 W). E2WATT technology reaches up eight times farther (to 40 mm) and delivers up to 300 W — a real breakthrough for inductive standards.
E2WATT wireless technology is powered directly from AC mains without the need for an external power supply. The single-stage hybrid design minimizes losses compared with conventional double-stage wireless technologies to deliver significantly increased peak efficiencies of up to 95%.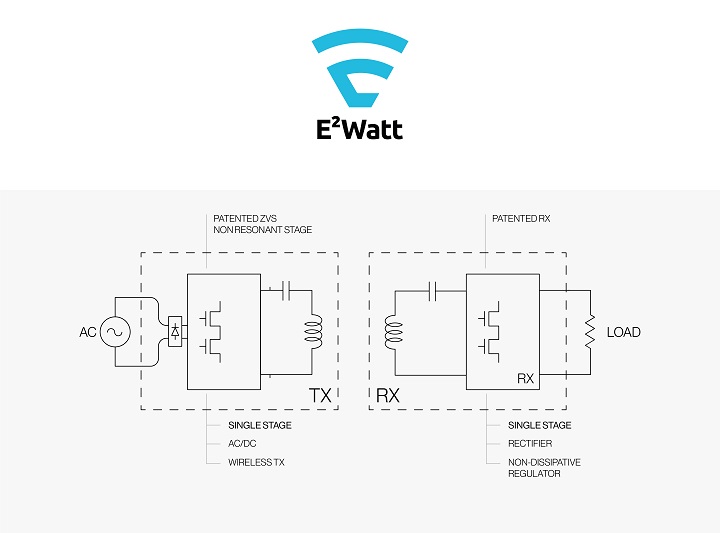 Source: Eggtronic
"The industry-changing performance of E2WATT is enabled by the high-speed gallium nitride — or GaN — semiconductor technology used in GaNFast power ICs," added Stephen Oliver, vice president of corporate marketing at Navitas Semiconductor. "The Eggtronic team realized the limitations of legacy silicon chips and early discrete GaN with complex circuits and many discrete components. GaNFast power ICs are easy-to-use, 'digital-in, power-out' circuit building blocks which meant the expert team in Modena could focus on their proprietary, high-speed E2WATT topology and achieve a very fast time to market."
Thanks to the proprietary receiving technology, the platform also allows for a significant drop in receiver temperatures. The charging performance of modern smartphones and laptops is therefore improved, resulting in a better user experience.