Goulds 3700i single stage pump
Diana Aoun | April 28, 2021
The 3700i single stage, radially split overhung process pump by Goulds Pumps showcases state-of-the-art design features for optimum reliability. The 3700i high pressure and temperature process pumps are designed to meet or exceed API 610 (12th Edition) standards, ensuring the highest level of safety and versality under extreme operating conditions.
The 3700i comes in 54 casing sizes and a choice of impellers with most casings. It is available in a wide range of materials including all API 610 constructions as well as other custom application needs. Goulds offers engineered packages to meet specific plant and process requirements with a wide range of drivers, seals, nozzle configurations, flanges and base plates. Additional options include:
Heat flinger, air cooling and water-cooling options for high-temperature capability.
Oil mist lubrication system, sealed power end and lubricant sight-glass for added lubrication flexibility.
Extra-wide baseplate for auxiliary components and heavy-duty pedestal for superior resistance to flange load deflections.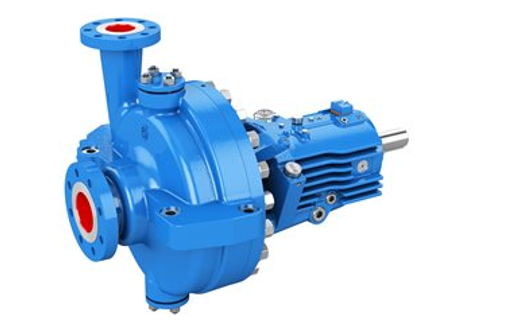 Source: Goulds Pumps
The extra-large oil sump ensures cooler-running bearings, and the standard dual oil rings help to prevent oil foaming. All self-contained bearing housings include a cartridge filter assembly that has been uniquely designed to keep the oil free of debris and moisture for extended bearing life. The patent pending filter cartridge continuously works to scrub water from the bearing oil by utilizing specifically engineered moisture absorbing materials that have been built into the filter. Easy changeover of filter cartridges during operation reduces the need to cease pump operation.
The 3700i comes with the latest i-Alert technology for online monitoring of equipment health and performance such as runtime, temperature and vibration. The rigid heavy-duty shaft minimizes shaft deflection, further maximizing bearing and mechanical seal life.
The 3700i features a large hydraulic coverage and BEP with a maximum flow capacity of 1930 m3/hr (8500 gpm) and a maximum TDH (Total Dynamic Head) of 360 m (1200 ft). The pump has a maximum temperature rating of 425° C (800° F) and pressure rating of 60 bar (870 psi).