Overhaul planned for B-52 wheels and brakes
Engineering360 News Desk | April 19, 2021
As the U.S. Air Force extends the operational service life of the B-52 Stratofortress into the 2050s, it has selected Collins Aerospace to design and develop a new wheel and carbon brake for the platform, leading to fleet retrofit of 77 aircraft.
Collins will design the new wheel and carbon brake for the B-52H using the company's proprietary DURACARB carbon heat sink material. With its increased wear life, DURACARB will allow the Stratofortress to conduct more landings per overhaul, helping to reduce maintenance time and cost while increasing aircraft availability. The ability of the material to handle higher thermal energy loads during braking will also increase the safety margin when stopping heavily loaded B-52s.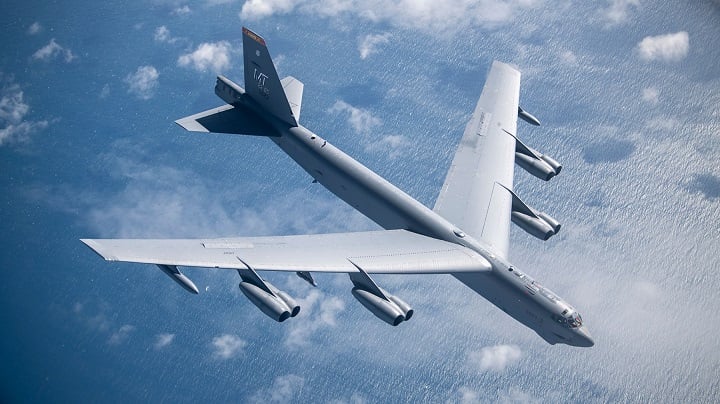 The B-52 Stratofortress. Source: U.S. Air Force
Collins is a leading provider of wheels and brakes for military platforms as the supplier for the U.S. Air Force's F-15, F-16, C-5, C-130 and Global Hawk fleets. The company has also completed wheel and brake upgrades for several air forces around the world, and provides wheels and brakes for more than half of all active C-130s worldwide.
Collins now supplies numerous systems for the B-52, including generators, communication and navigation systems, environmental control systems, engine systems and sensors. The company is actively working with the U.S. Air Force and the plane's manufacturer to explore how it can support further B-52 modernization efforts, including communications and avionics upgrades.