Video: Diagnostic quickly detects COVID variants
S. Himmelstein | April 29, 2021
Researchers in Singapore have devised an assay that detects Sars-CoV-2, the virus that causes COVID-19, even after it has evolved. The test involves dipping a paper strip into a mixture containing a nasal sample and could be useful for rapid testing performed by non-specialists. A mobile phone app is also available to facilitate the interpretation of the paper strips.
Results are returned in 30 minutes with the Variant Nucleotide Guard (VaNGuard) test, which relies on the clustered regularly interspaced short palindromic repeats (CRISPR) technology to recognize specific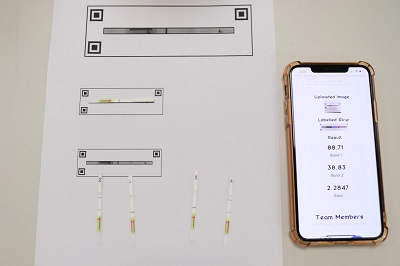 To make the test easy to administer, the assay is integrated into a specially treated paper strip and a mobile phone app facilitates interpretation of the results. Source: Nanyang Technological Universitysegments of SARS-CoV-2 genetic material and cut them out, using guide RNAs to recognize the sequences of interest. Once this has occurred, the snipped fragments start to glow, and this light can be detected using a microplate reader. Each guide RNA is computationally predicted to recognize over 99% of the thousands of SARS-CoV-2 isolates that have so far been sequenced around the world.
When tested with samples from 57 healthy and 72 COVID-19-infected subjects, the VaNGuard protocol demonstrated a specificity and positive predictive value of 100%. The developers have applied for a patent and are now working with local hospitals to further refine the diagnostic method.
A paper on the VaNGuard assay engineered by researchers from Nanyang Technological University, the Agency for Science, Technology and Research and the National University Health System is published in Nature Communications.