Spoiler alert: Design enhances wind rotor blade efficiency
S. Himmelstein | April 12, 2021
German wind energy start-up Evoblade has developed a retrofittable spoiler to deliver flow improvement, load reduction and extended service life for wind rotor blades.
A side-by-side study of the EvoFlap, designed in collaboration with Deutsche Windtechnik and Wirtschaftsforderung Bremen, confirmed a 6% increase in annual energy production that had been predicted using simulated data, with an average annual wind speed of 7 m/second. The spoiler improves aerodynamic flow in the area of the blade root, resulting in improved efficiency and performance of wind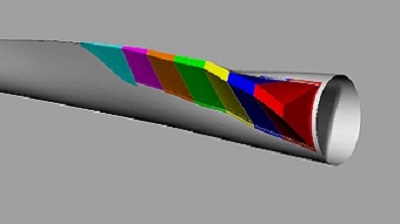 The trailing edge spoiler EvoFlap for the blade root area, divided into seven segments. Source: Evobladeturbine rotor blades.
The EvoFlap design also increases the bending and torsion strength of the rotor blade, which translates into a longer service life. "Depending on the useful life of the EvoFlap, a possible extension of 1.2 to 2.6 years beyond the maximum service life of 20 years can be achieved," said Evoblade founder and CEO Frank Kortenstedde. "A very high level of technology transfer has been achieved. Retrofitting such large-scale flow elements is currently the absolute exception. Nevertheless, this research project shows significant potential positive effects."
Suited for retrofitting different rotor blade types or for inclusion during the manufacturing process, EvoFlap has an overall length of 10 m and is composed of seven segments to allow assembly directly on an installed rotor blade.