Suzlon Manufactures India's Longest Wind Turbine Blade of 63 Meters
Engineering360 News Desk | March 21, 2018
Suzlon Group, India's largest renewable energy solutions provider, has designed and manufactured the country's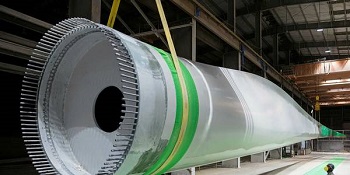 Source: Suzlon Group longest wind turbine blade at its Padubidri Rotor Blade Unit. The advanced blade (SB 63) measures 63 meters in length and has been specifically developed for Suzlon's new S128 wind turbine family with a rotor diameter of 128 meters, 1.5 times taller than the India Gate monument in terms of height.
This blade has been engineered with a carbon girder, which provides the capability to utilize thinner aerodynamic profiles and delivers higher lift with less drag to contribute to the turbine's excellent performance in low wind sites. The blade also incorporates flat back technology at the root that minimizes drag and saves additional weight and cost. The S128 series offers ~33 percent more swept area (12,860 m2) and is expected to deliver ~32 percent more energy generation compared to the S111. With an increase in the swept area Suzlon's next-generation turbine is well equipped to improve energy yield and support competitive tariff environment in India while protecting customers' return on investment.
These rotor blades will be transported using an innovative two-fold transport system, which will use a specialized 'Adapter Trailer' for the first time in India. This innovative approach will ensure a safe, cost-effective and time-efficient mode of transport for the 63-meters long rotor blade to the most remote areas.