Video: Starfish robot designed for underwater applications
Marie Donlon | April 12, 2021
Scientists from the Massachusetts Institute of Technology (MIT) Computer Science & Artificial Intelligence Lab (CSAIL) have developed a soft robot inspired by starfish for underwater exploration.
The robotic starfish is composed of silicon foam and moves using a low-powered actuator. Additionally, tendons in the starfish legs enable the robot to flex and relax its legs depending upon application.
To overcome the challenge that robots encounter moving through water and other fluids, the CSAIL team reported that machine learning tools enable the starfish robot to determine the best and most efficient way to move through the water.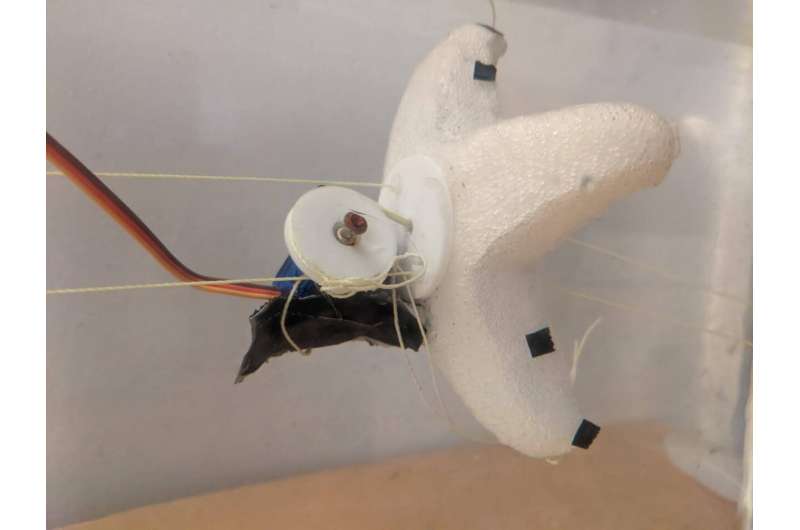 Source: MIT CSAIL
"The passive interactions between an underwater robot and the fluid forces around it — whether it's a calm current or an undulating wave — are much more complicated than when a robot is walking on stable terrain, which makes creating its control systems quite difficult," explained CSAIL postdoc Josephine Hughes, co-lead author of a new paper about the starfish. "But using this simulator, a process that might normally take days or weeks can happen in just a few hours."
Researchers suggest that the robotic starfish could be used to measure ocean data, moving among sea life without disruption. Likewise, the team expects to develop robots that mimic different body types including sea turtles, sharks and manta rays.
For more on the research, watch the accompanying video that appears courtesy of MIT CSAIL. The robots are also detailed in an article "Underwater Soft Robot Modeling and Control with Differentiable Simulation," which appears in the journal IEEE Robotics and Automation Letters.