Study: Material determines how well a mask protects from COVID-19
Siobhan Treacy | April 05, 2021
Researchers from the Georgia Institute of Technology tested various types of mask materials to find which best protects against COVID-19. The type of material and number of layers in a homemade mask has an effect on the wearer's risk of exposure.
The study measured the filtration efficiency of submicron particles passing through a variety of materials. Particles of this can stay in the air for hours to days depending on ventilation in a room.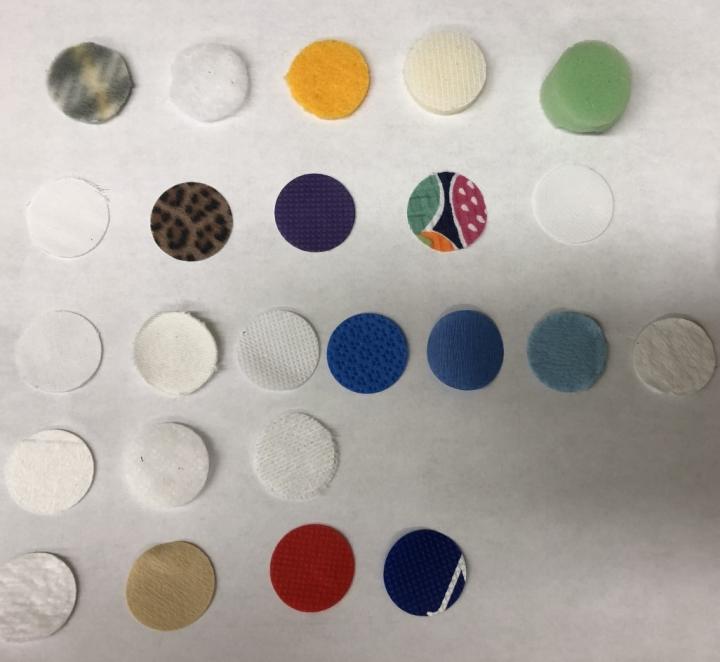 Some of the mask fabric samples tested by Georgia Tech researchers. Source: Taekyu Joo, Georgia Tech
The study started in Spring 2020. Researchers tested 33 commercially available materials, including single-layer woven fabrics, blended fabrics, non-woven materials, cellulose-based materials, materials commonly found or used in hospitals and various filter materials.
The commercially available materials had acceptable levels of submicron particle rejection and also maintained airflow resistance similar to surgical masks. The key to high protection is a combination of fabric fiber density, maze-like structure and fiber surface chemistry. The best performing masks were homemade masks with blackout drapery and sterilization wrap that is typically used for packing surgical instruments, all of which are commercially available.
Researchers also found materials that should be avoided. High-efficiency particulate air filters, minimum efficiency reporting value filters or vacuum bags should be avoided unless they are certified fiberglass-free because they could contain glass fibers that can be inhaled. Other materials to avoid include loosely knitted material, batting fabric, felt, fleece or shiny or reusable shopping bags.
Multilayered samples worked better than a single-layer mask, but users need to pay attention to breathability. Two or three-layered samples had overall filtration efficiency of about 50% for submicron particles.
The team noted that mask fit is important, too. Particles could easily escape through gaps at the nose or through the sides of the mask. Properly fitted masks reject 84% of particles expelled by a person when one person is wearing a mask. Particle transmission is reduced by 96% when two people are wearing properly fitting masks. Overall, the most important part of masks is universal wearing. People are the most protected when everyone is wearing a properly fitted mask because it reduces exhaled particles at the source.
This study was published in Aerosol Science and Technology.