Device can detect fake meat and fish
Siobhan Treacy | April 02, 2021
Researchers have developed a device that can help detect fake fish and meat.
Meat and fish fraud costs billions of dollars a year and causes problems for people with allergies and religious or cultural reasons to avoid certain meats or fish. The current detection methods are accurate but slow and tedious. Currently, random production inspections are used to find fake meats. Molecular techniques, like polymerase chain reaction (PCR) tests, are highly accurate, but this analysis is performed off-site and can take hours to days.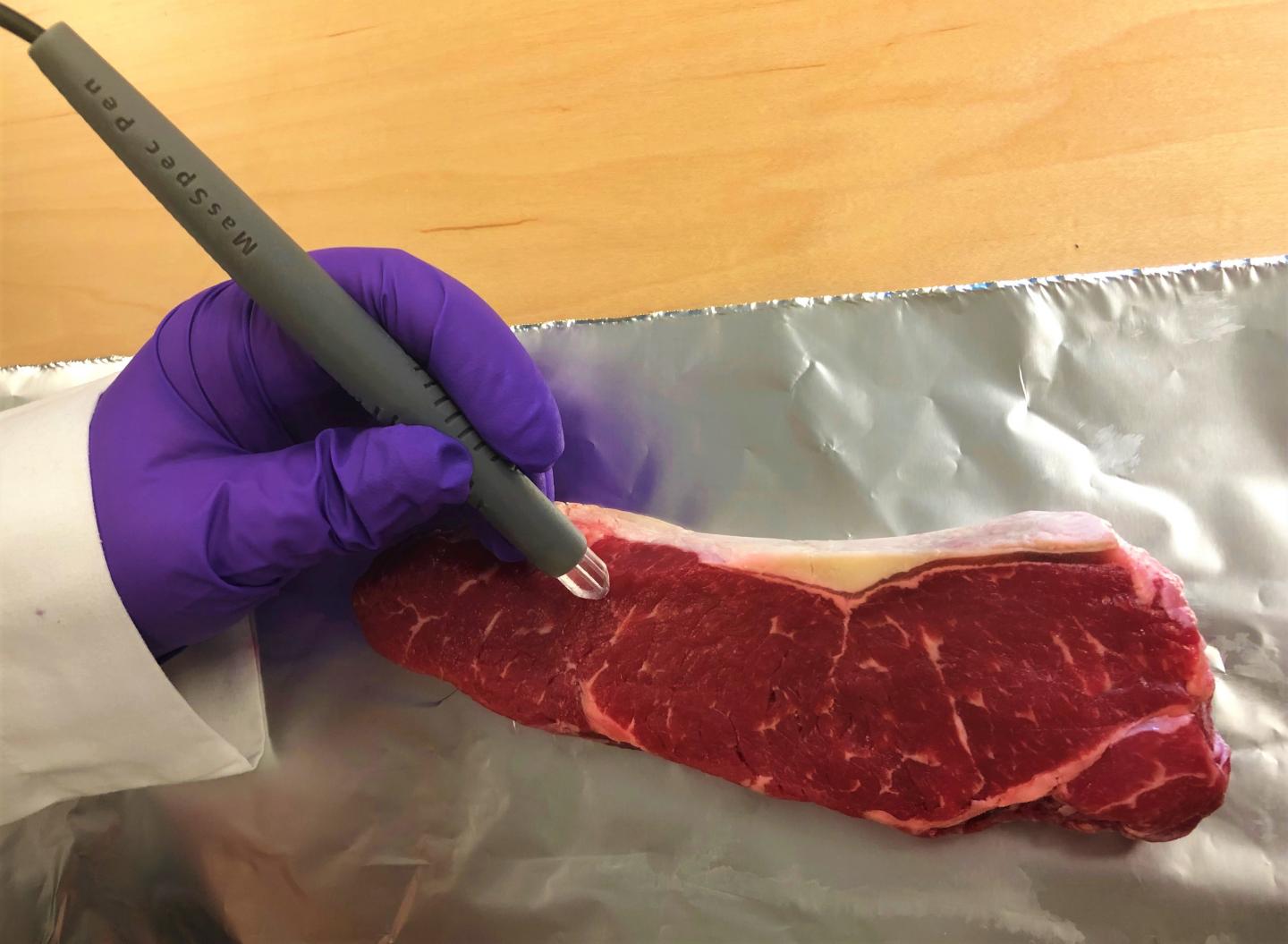 The MasSpec Pen can authenticate the type and purity of meat samples in as little as 15 seconds. Source: Adapted from Journal of Agricultural and Food Chemistry
Previous studies have created more direct and on-site food analysis methods with mass spectrometry. This was promising, but the methods destroyed samples during the process or required extra sample preparation steps that added time. The team has used these studies to create the handheld MasSpec Pen.
The MasSpec Pen is a handheld device that gently extracts compounds from the material's surface in seconds for analysis by mass spectrometer. After it was developed, the researchers wanted to see if it could be used to test for fake meat and fish.
The MasSpec Pen was used to examine the molecular composition of grain-fed and grass-fed beef, chicken, pork, lamb, venison and five common fish species collected from grocery stores. The device tip was pressed against a sample, which then deposited a 20-μL droplet of solvent. This extracts sufficient amounts of molecules within three seconds to gather an accurate analysis. In total, the process takes 15 seconds without any pre-processing or harm to the sample surface.
The team also created authentication models to find unique patterns of molecules including carnosine, anserine, succinic acid, xanthine and taurine. It distinguished the pure meat types from each other, beef based on their eating habits and five types of fish. The models had 100% accuracy at identification and were approximately 720 times faster than current PCR methods.
The researchers plan to expand the method to other meat products.
A paper on this research was published in the Journal of Agricultural and Food Chemistry.