Watch cool research: Antimatter chilled to near absolute zero
S. Himmelstein | March 31, 2021
Researchers participating in the ALPHA collaboration at CERN in Switzerland have successfully cooled down antihydrogen atoms — the simplest form of atomic antimatter — using laser light. The development could allow measurements of the atoms to be made with exceptionally high precision.
Demonstration of the laser cooling technique paves the way to more accurately document the internal structure of antihydrogen and how it behaves under the influence of gravity. Comparing such measurements with those of the well-studied hydrogen atom could reveal differences between matter and antimatter atoms. In turn, the observation of any differences could shed light on why the universe is composed of matter only, an imbalance known as matter-antimatter asymmetry.
Antihydrogen atoms generated in CERN's Antiproton Decelerator are confined in a magnetic trap to prevent contact with matter and their subsequent annihilation. The anti-atoms then absorb laser photons, causing them to reach a higher-energy state, emit the photons and spontaneously decay back to their initial state. Repetition of this process leads to cooling of the atoms to a low temperature.
After illuminating trapped atoms with pulsed laser light for several hours, the researchers observed a more than tenfold decrease in median kinetic energy, with many of the anti-atoms attaining energies below a microeletronvolt, or 0.012 degrees above absolute zero in temperature equivalent.
Spectroscopic measurements reported in Nature showed that the cooling resulted in a spectral line for the transition from the lowest-energy state to the first excited state, the so-called 1S to 2S transition, about four times narrower than that observed without laser cooling and with a precision of a couple of parts in ten billion.
Researchers from Swansea University (U.K.), University of Manchester (U.K.), Cockcroft Institute (U.K.), TRIUMF (Canada), University of California at Berkeley, Universidade Federal do Rio de Janeiro, University of Calgary, University of British Columbia, Simon Fraser University (Canada), Aarhus University (Denmark), Stockholm University, British Columbia Institute of Technology, York University (Canada), University of Victoria (Canada), University of Liverpool, CERN (Switzerland), Purdue University, Soreq NRC (Israel), Ben Gurion University (Israel), Marquette University (Wisconsin) and Université de Sherbrooke (Canada) contributed to this study.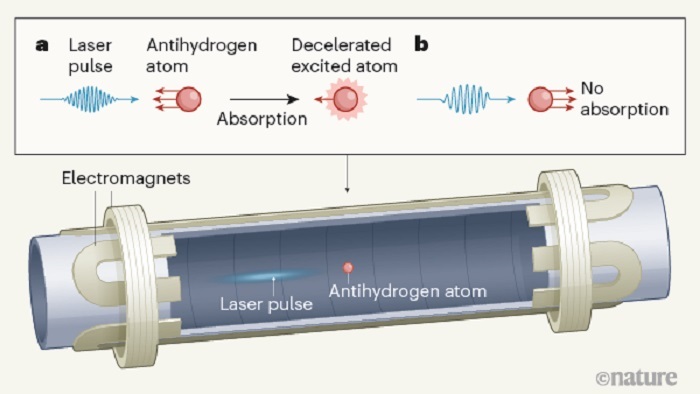 a) Atoms move toward the laser as photon absorption simultaneously excites and slows, or cools, them down. b) Atoms that move away from the laser cannot absorb photons at this wavelength, and the laser beam therefore passes through the atoms without causing undesirable acceleration. Source: C. J. Baker et al.