Watch robots speed wind turbine manufacturing
S. Himmelstein | March 18, 2021
As part of the ROBOMAG project, researchers from the University of Sheffield, U.K., deployed robots to cut the time it takes to place powerful magnets in electrical generators from one hour to just 55 seconds.
The project was designed to tackle a problem encountered by engineers at magnetic gearing specialist Magnomatics when locating powerful permanent magnets in the rotors of 6 m diameter generators designed for use in offshore wind turbines. Manual placement is a painstaking process in which operators use jigs and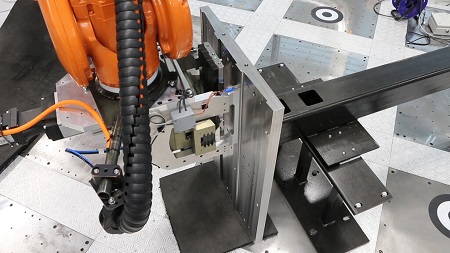 Robotic placement of permanent magnets for offshore wind generators. Source: University of Sheffield leadscrews to carefully slide 204 magnets — each weighing 18 kg and capable of exerting forces of up to 3 kN — into position. An hour is typically needed by two operators to install each magnet in a process that poses the risk of body parts being trapped when the magnets snap into place.
The project was implemented in a reconfigurable automation cell using the university's Factory 2050 platform, which allows robots, fixtures and machinery to be integrated and reconfigured easily, cutting set-up times and complexity. In addition to slashing rotor build times and enhancing personnel safety, the project reduces the need for bespoke tooling. The cell can be programmed to build rotors with different combinations of magnets to save even more time.