Watch How Rare-Earth Magnets are Recycled
S. Himmelstein | October 02, 2018
Oak Ridge National Laboratory (ORNL) researchers are advancing a circular economy for used magnets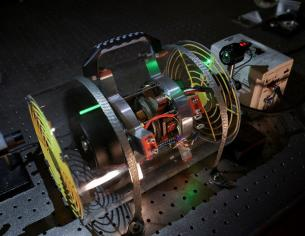 Rare-earth permanent magnets can be harvested from used computer disk drives and repurposed in an axial gap motor. Source: Jason Richards/ORNL, U.S. Dept. of Energyrecovered from discarded computer hard drives. The researchers installed the rare-earth element-based permanent magnets without alteration in an axial gap motor.
Rare-earth ore used to make the magnets, which are employed in electric cars, cell phones, laptops, wind turbines and factory machinery, is in high demand and mined almost exclusively outside the U.S.
In related research, scientists at the Critical Materials Institute (CMI) and Ames Laboratory invented a magnet recycling process in which magnets are dissolved in water-based solutions, recovering more than 99% pure rare-earth elements. The recovered rare-earth materials can be reused in the manufacture of new magnets, and the cobalt which is also recovered shows promise for making battery cathodes.
The process, which eliminates operational hazards and environmental impacts associated with acid-based dissolution process without sacrificing purity and potential economic gains, earned a 2018 Notable Technology Development Award from the Federal Laboratories Consortium.