Team creates method to separate mucilage from chia seeds
Siobhan Treacy | January 29, 2021
Researchers from Purdue University created an improved extraction method that provides new options for nutritional foods, medicine capsules and anti-aging products.
Mucilage is a thick, gluey substance that surrounds chia seeds. It makes processing chia seeds for food and pharmaceutical industries almost impossible.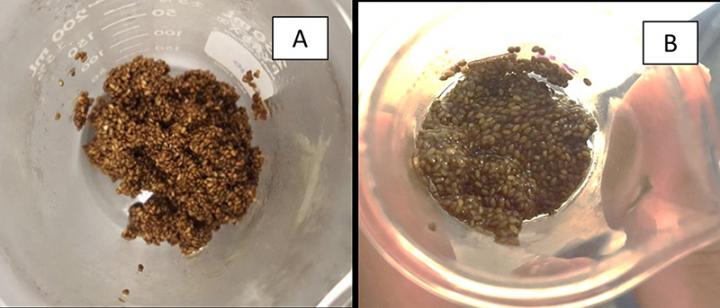 An improved extraction method from Purdue University innovators involving chia seeds may provide new options for anti-aging products, nutritional foods and medicine capsules. Source: Andrea Liceaga/Purdue University
The team's patented method successfully separates the mucilage from the seeds and creates protein-rich chia seed flour with improved bioactivity and functionality over the conventional processes. The method uses temperature ultrasonication and vacuum-assisted filtration to separate the mucilage from the chia seeds.
Conventional separation methods can be expensive and time-consuming., and also risk damaging the useful components of the seeds and decrease the total yield. The new method has improved efficiency and saves time.
The team also tested their method for other applications. For example, mucilage and peptides can be exploited to develop films for use in medicine capsules and anti-aging products.