This fluorescent artificial seed monitors soil temperature
Marie Donlon | November 28, 2023
A team of researchers from the Italian Institute of Technology (IIT) has developed an artificial fluorescent seed for monitoring soil health via drones.
Mimicking the aerodynamic behavior of winged Acer seeds, which are dispersed by the wind, the team developed the so-called Acer i-Seed.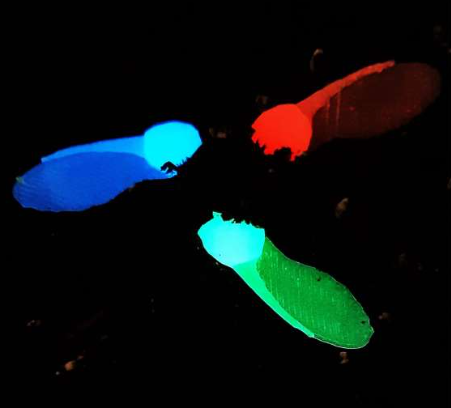 Source: ITT
To create the Acer i-Seed, the team 3D printed the artificial seeds using biocompatible and compostable material composed of polylactic acid (PLA) embedded with temperature-sensitive non-toxic fluorescent lanthanide particles.
Once developed, the team suggested that the seeds could be dispersed via drone and then they would deploy drones equipped with fluorescence light detection and ranging (flidar) to enable both remote and distributed monitoring of the soil temperature and other factors.
"Moving the sensing into the material obviates power sources and electronics, making the flier eco-friendly and robust," the researchers explained.
The team proposes that adding fluorescent particles sensitive to other environmental parameters, like humidity, CO2 levels or pollutants, could also be included in the future design of the Acer i-Seed.
An article detailing the artificial seeds, "A printed luminescent flier inspired by plant seeds for eco-friendly physical sensing," appears in the journal Science Advances.
For more on the Acer i-Seed, watch the accompanying video that appears courtesy of ITT.