New brushless DC motor with integrated driver saves space and time
Engineering360 News Desk | December 29, 2020
Portescap has expanded its Ultra EC™ mini brushless DC motor platform with the addition of the 16 ECP brushless motor featuring a new integrated driver. These compact 16 mm diameter motor versions are available in two lengths (36 mm and 52 mm) and offer almost 50% more continuous torque over similar comparative motors without compromising on smooth operation and long service life.
The integration of the driver inside the motor reduces many of the complexities associated with the operation of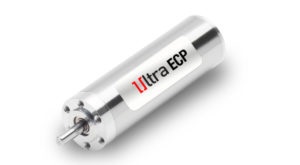 Source: Portescapthe motor, cuts down the Installation time, lowers overall application footprint, minimizes the clutter of wirings and offers cost optimization benefits.
The integrated motor drive solutions are a good fit for applications such as respiratory and ventilation devices, miniature pumps, medical hand tools, clinical diagnostics, valve actuation as well as many others.
Portescap provides high quality, long lasting and high performance brushless motors which are an ideal choice for geared applications because of their minimal speed drop and low motor heating under load. Their low inertia makes them an exceptional option for applications requiring fast stopping, starting and acceleration.
Upon request, Portescap can also provide options for customization including gearboxes, encoders, coil variations and mechanical interface modifications.