Watch: Screen-printing a powerful, flexible battery
S. Himmelstein | December 10, 2020
A rechargeable, flexible battery has been engineered by researchers from ZPower LLC and University of California San Diego to power wearable devices, display systems and other flexible electronic equipment. The silver oxide-zinc battery features five to 10 times greater areal energy density than available batteries and is easier to manufacture as it is screen printed without the need for sterile laboratory conditions.
The zinc anode, silver oxide cathode and separators are fabricated by high-throughput, layer-by-layer printing of formulated powder-elastomer composite inks. A lead oxide coating applied to the cathode improves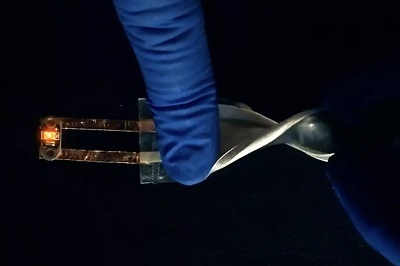 The flexible printed battery features high areal capacity and low impedance. Source: University of California San Diegoelectrochemical stability and conductivity, enabling this battery chemistry to maintain low impedance. Following ink preparation, the battery can be printed in only a few seconds and can also be printed in a roll-to-roll process, which would increase production speed and make manufacturing scalable.
The flexible, stretchable battery has an areal capacity of 54 milliamps/per square centimeter, exceeding that of a typical lithium-ion battery. The screen-printed device was used to power a flexible display system and was demonstrated to outperform lithium coin cell batteries and be recharged for 80 cycles without significant capacity loss.
The next generation of the battery is now under development as the researchers pursue a faster charging system with even lower impedance. In addition to wearable electronics, the stretchable battery could find use in soft robotics and 5G devices that require high power and customizable and flexible form factors.