Highly flexible VNA cables support frequencies up to 70 GHz
Engineering360 News Desk | December 02, 2020
Pasternack has launched a new line of highly flexible vector network analyzer (VNA) test cables designed to address a wide range of demanding lab and test applications.
These VNA test cables display electrical properties such as exceptional phase stability of +/- 6° at 50 GHz and +/- 8° at 70 GHz with flexure, as well as a voltage standing wave ratio of 1.3:1 at 50 GHz and 1.4:1 at 70 GHz. The new 50 GHz assemblies are terminated with 2.4 mm connectors, while the 70 GHz assemblies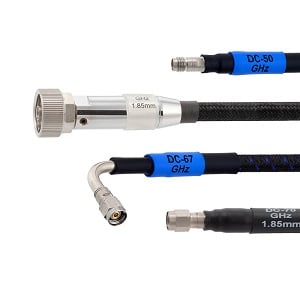 Source: Pasternackutilize 1.85 mm connectors.
The braided, stainless steel armoring surrounding the coax provides a rugged yet flexible cable with a flex life exceeding 100,000 cycles, making these test cables ideal for use in precise benchtop testing, semiconductor probe testing and lab/production testing where the requirement for a durable, yet highly flexible cable solution is a must.
The new VNA test cables are terminated with rugged, stainless-steel connectors that provide up to 5,000 mating cycles when attached with proper care. Both 50 GHz and 70 GHz versions are offered with NMD-style connectors, which are often used on test sets and network analyzers. Additionally, the flexibility of these cables makes it easier and safer to test a device under test (DUT). Swept right-angle 2.4 mm and 1.85 mm connector options allow these cables to fit into tight spaces and reduce the length of cable that is required in many applications.