New range of high frequency mmWave cable assemblies, connectors and adaptors
Engineering360 News Desk | June 01, 2021
A new range of high frequency, 5G new radio (NR) millimeter wave spectrum (mmWave) cable assemblies, connectors and adaptors is now available from Taoglas.
The diversity of applications such as high-speed communications, satellite communications, military and aerospace, alongside the ever-changing demands for higher-frequency test systems are driving coaxial cable assemblies to the next level. The specification requirements around performance for test cables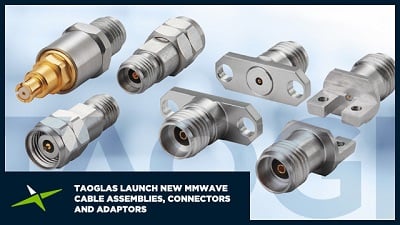 Source: Taoglasextend beyond the tight tolerance typically required for lab performance to a wider range of 5G applications. In answer to this, Taoglas has introduced its competitively priced, MCA series of high-quality cable assemblies. Terminating in 2.92(M) connectors, as standard, these assemblies are an ideal solution for applications with demands of up to either 26 GHz or 40 GHz. Both series of cables are available in configurations between 152 mm and 915 mm.
To allow for complete compatibility with end use-cases, Taoglas has released a complementary series of connectors and adaptors, which are all cross mate-able to other industry-standard connectors, including SMA(F), SMP(F), 2.4(F) and 2.92(F) connectors. These connectors and adaptors support DC of up to 40 GHz frequencies while exhibiting low voltage standing wave ratio and low radio frequency leakage. The connectors are precision engineered from high-quality materials and undergo stringent reliability testing to provide superior reliability for the most demanding of applications.