Watch: Scare up these Halloween creations with lasers
S. Himmelstein | October 15, 2020
Seasonally themed designs featuring patterns, family names or company logos can be created to spruce up one's surroundings or provide a new business revenue stream. Graphics, guidelines and equipment from Epilog Laser are the trick to personalizing these holiday treats.
The accompanying video demonstrates the engraving of a coir doormat with a Halloween focused message and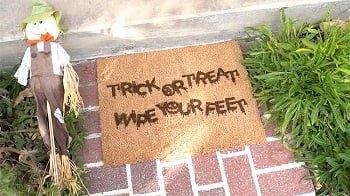 Source: Epilog Lasertypeface treatment. Step-by-step instructions guide the user through laser setup and operation for the design of a doormat proclaiming "Trick or Treat Wipe Your Feet" or a frighteningly clever message of the customer's choosing.
Another project showcases the engraving of a gluten-free pumpkin pancake project with a fun seasonal "Happy Fall Y'all" message. An additional video and instructions show how to design a file using CorelDRAW, Epilog's IRIS Camera to position the graphics, and laser print the graphics onto the gluten-free pumpkin pancake.
Both projects use the Fusion Pro 32 with an 80 W laser tube.