Study: Vein-based 3D biometric authentication nearly fool-proof
Marie Donlon | October 01, 2020
Researchers from the University at Buffalo, The State University of New York, have developed a virtually fool-proof biometric authentication approach using 3D images of veins.
Nearly impossible to replicate, the 3D vein images — which are unique to each individual like other biometrics including fingerprints and facial features — are captured via photoacoustic tomography, which combines both light and sound. A laser light is used to illuminate a finger and when that light hits upon a vein, it emits a unique sound. The system then detects the sound using an ultrasound detector and that is then used to construct 3D images of the vein.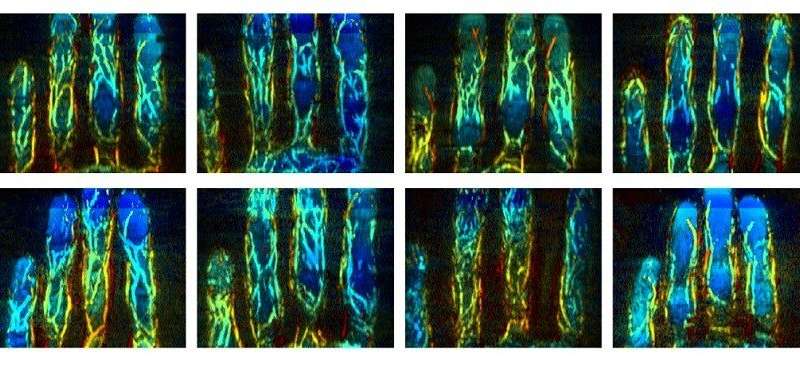 Researchers developed a new biometric approach that uses 3D images of finger veins. Shown are finger vessel images from eight different subjects, with colors that represent different depths. Source: Jun Xia, University at Buffalo, The State University of New York
To accomplish this, the team developed a new light- and acoustic-beam combiner tool alongside an imaging window that enables a subject's hand to be placed on a platform like those used with fingerprint scanners. Additionally, the team developed a corresponding algorithm that enables the system to detect the unique features in the 3D vein images and match that information to the biometric data.
During testing, the researchers determined that the approach was 99% accurate in accepting or rejecting identities based on the 3D images. Setting this approach apart from other biometric authentication tools, according to the team, is that current biometric authentication methods are based on 2D images and not 3D images, which reveal unique features of the vein.
The team believes that the approach could eventually be used to secure devices, data and sensitive documents because it would be impossible to duplicate the 3D vein images for spoofing attempts. As such, the team envisions that the approach could be used at military bases or banks.
The research appears in the Optical Society's Applied Optics journal.