Graphene-based sensor detects infections in 15 minutes
S. Himmelstein | August 20, 2020
A graphene oxide-based sensor platform engineered by researchers in Germany promises to speed COVID-19 diagnostics by returning results in 15 minutes.
After a single drop of blood or saliva is applied to the sensor surface, electrical signals generated by 3D graphene oxide flakes are transmitted to clinicians. Captured molecules on the device enable detection of biomarkers of infection in a system that may prove valuable in identifying early COVID-19 cases and aid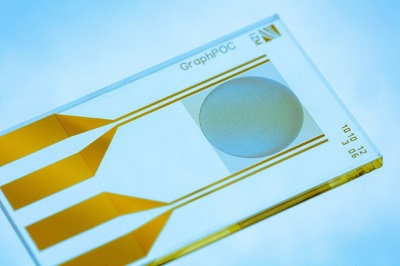 Graphene oxide-based biosensors are being developed to detect bacterial and viral infections in 15 minutes. Source: Fraunhofer Institute for Reliability and Microintegration IZMinfection tracing efforts.
To enable mass manufacturing of the sensors, the researchers are planning to use the graphene oxide coating at the wafer level for the simultaneous production of hundreds of chips. The 3D array of graphene oxide flakes might also find application in systems designed to monitor for carbon monoxide and other gases.
The diagnostic sensors must still be integrated into plastic carriers and subjected to reliability testing before the rapid assay is made available. Researchers from Fraunhofer Institute for Reliability and Microintegration IZM, Charité, Aptarion Biotech AG, Technische Universität Berlin, MicroDiscovery GmbH and alpha-board GmbH are contributing to this ongoing project.