Graphene water filter built with bacteria kills bacteria
S. Himmelstein | January 18, 2019
Biofouling is a common problem that weakens the performance of water filtration membranes and degrades the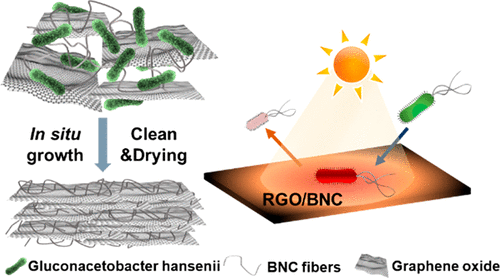 Schematic depicts membrane formation using graphene oxide and bacterial nanocellulose. Source: Washington University in St. Louis quality of potable water supplies. A new approach to membrane synthesis promises to combat such biofilm buildup by use of a substance actually produced by bacteria.
Researchers from Washington University in St. Louis and Seoul National University feed a sugary substance to Gluconacetobacter hansenii bacteria, which then produces cellulose nanofibers in water. Graphene oxide flakes added during this stage are embedded in the membrane and enhance its stability and durability. The bacteria are then deactivated with a base solution that also serves to eliminate oxygen groups from the flakes and form reduced graphene oxide.
Biofouling prevention is achieved when the flakes absorb solar radiation and generate sufficient heat to kill bacteria. To demonstrate the material's bactericidal power, the researchers shone a light on the membrane for three minutes, allowing it to heat to a temperature in excess of the 70° C required to kill E. coli. The microbes remained viable when the same test was conducted using a bacterial nanocellulose membrane without the reduced graphene oxide.
The researchers theorized that a spiral-wound module equipped with LEDs would provide a cost-effective anti-fouling solution for conventional reverse osmosis systems.