Watch: Shedding daylight on space debris laser ranging
S. Himmelstein | August 05, 2020
The estimated 500,000 spacecraft parts, defunct satellites and other objects circling the Earth pose a risk of colliding with active satellites and manned space missions. Laser detection stations currently monitor and identify space debris to enable scientists to make orbital predictions and issue collision warnings. However, these stations are only effective at twilight providing a short temporal window when Earth is in darkness but debris still reflects solar light.
Technology for using lasers during daylight to determine the distance to debris has now been demonstrated by researchers from the Austrian Academy of Sciences and the European Space Agency. The new laser ranging method will improve orbit predictions for debris objects and increase the time available to make observations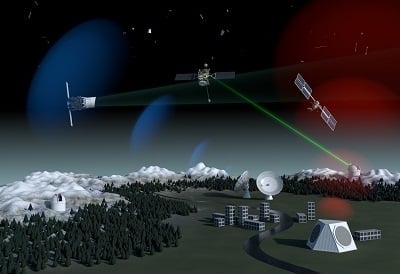 Concept for future space debris surveillance system employing ground-based optical, radar and laser technology as well as in-orbit survey instruments. Source: Alan Baker/European Space Agencyand keeping valuable spacecraft safe. The approach relies on a combination of satellite laser ranging (SLR) telescopes, detectors and light filters tuned to specific wavelengths to increase the contrast between sky and laser-illuminated objects enough to make the latter visible.
Real-time target detection software was developed to predict when certain objects could be observable. To support daylight tracking, telescopes were equipped with special light filters and photon detectors to shift the contrast of the day sky so that satellites and even dim stars become visible. When a suspected debris fragment is above 15° in elevation, it is picked up by a 20 cm tracking telescope mounted on the SLR telescope. The software helps the telescope compensate for various biases and track the object by its reflected laser signature, gathering enough data for a precise orbital prediction.
The new technique detailed in Nature Communications could increase the observation times of space junk from Earth from six to 22 hours a day. The researchers have observed faint stars and 40 debris objects, including rocket debris from Russian space launches dating back to 1971, at midday.