Engineering startup constructs bricks using demo waste
Marie Donlon | July 20, 2020
Engineers at a Scotland-based startup have developed an ecofriendly brick for the construction industry.
The K-Briq from Kenoteq is a brick that is composed of 90% construction waste, including gravel, sand, plasterboard and brick that is pulverized, mixed with water and then pressed into molds of various designs. Likewise, the bricks can also been tinted in assorted colors from recycled pigments.
Setting the K-Briq apart from standard bricks, according to its developers, is that it does not require a kiln. This reportedly reduces the carbon emissions by 1/10th of standard bricks, which are kiln fired, typically using fossil fuels. Additionally, the bricks do not require the use of finite raw materials.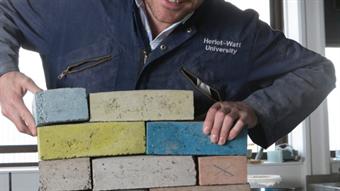 Source: Kenoteq
According to Kenoteq, the K-Briqs are more durable and offer improved insulation over standard bricks.
Already, Kenoteq has been commissioned to supply its bricks for the Serpentine Pavillion 2020 in London's Hyde Park.