Video: Online tool supports environmentally sound wind system siting
S. Himmelstein | July 20, 2020
The U.S. will need to quadruple its current wind energy capacity to realize the wind energy development needed to meet climate goals by 2050. A prime region for such expansion is the Great Plains, where nearly 80% of the country's current and planned wind energy capacity exists.
Continued wind energy development should be balanced with the need to conserve grassland habitat in the Great Plains, which also supports bison, pronghorn antelope and other unique species. An interactive online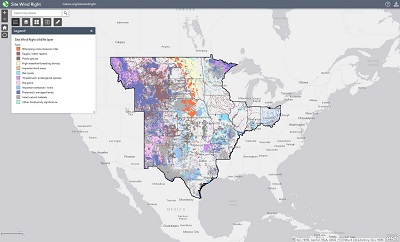 A wildlife layer in the Site Wind Right analysis shows important wildlife habitats in the central U.S. Source: The Nature Conservancymap released by the Nature Conservancy provides a tool for avoiding conflicts between wind system siting and wildlife habitat protection.
The Site Wind Right map is based on GIS technology and more than 100 data sets on wind resources, wildlife habitat, current land use and infrastructure to help inform siting decisions across 17 states in the central U.S. The system identifies 90 million acres in this region where wind energy development would not disrupt important wildlife habitats.
The map was designed to serve as an important source of information to inform screening early in the project siting process. It can be used to support application of the U.S. Fish and Wildlife Service Land-Based Wind Energy Guidelines, specifically Tier 1 and Tier 2 evaluations. By combining the Site Wind Right map with other land suitability factors, over 1,000 GW of wind energy may be developed in the central U.S. exclusively in areas of low conservation impact.