New sanitary ball valves from Valworx
Engineering360 News Desk | May 05, 2020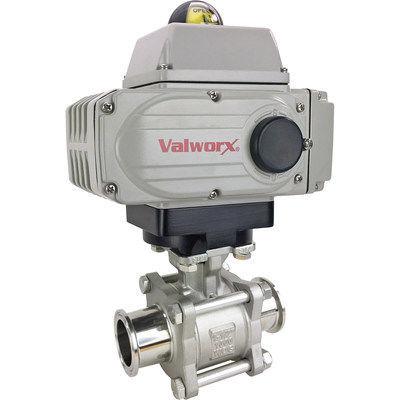 A electric actuated sanitary ball valve, tri-clamp. Source: ValworxActuated valve manufacturer and distributor Valworx has introduced its new line of electric actuated sanitary ball valves.
Designed for hygienic applications such as for the food and beverage, pharmaceutical, personal care and pet care markets, the ball valves feature tri-clamp ends for hygienic connections.
With materials compliant with FDA, USDA and 3-A standards, the ball valves are available in two- and three-way configurations. Additionally, the ball valves are pressure rated to 1,000 psi at 120° F, are available in sizes ranging from ½ in to 4 in and feature temperature ratings from -50° F to 400° F
For more information on the ball valves, visit the Valworx website.