Google Patent for Pothole-Avoiding Sensor Technology
Engineering360 News Desk | August 27, 2015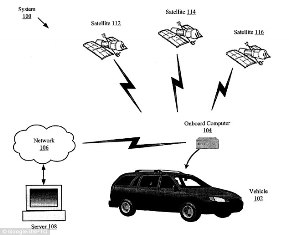 Google has patented technology for automatically detecting potholes and uneven surfaces on roads. Credit: Google/USPTOGoogle says it wants to use the GPS signals from cellphones and car infotainment systems to develop a database of road potholes. The information would be used for mapping applications to route drivers away from the potholes and toward better roads.
Google had a patent approved on August 18 for a system that uses vehicle-mounted sensors to "determine and report road quality using a communication device...[and] this data, together with the vehicle's location, may be transmitted through a mobile network to a central server for distribution in road quality reports and to improve driving directions in mapping software."
Google says it does not want to limit the scope to just the sensors found inside mobile phones. Instead, it is also interested in adding sensors to vehicle suspension and the head unit of the infotainment system.
The patent states, "Monitoring road quality may be achieved by adding a sensor to the shocks, by use of a vertical displacement sensor present on the head unit...Various combinations of sensors may be employed."
The company says its exploration into road quality could have uses in its ongoing autonomous car development.
News articles:
Google's Autonomous Cars Face Risk from Human Drivers
Consumers in Germany, UK Outline Technology Picks for New Vehicles, IHS Reports