Ford begins testing lidar sensors in self-driving truck pilot
Peter Brown | December 03, 2020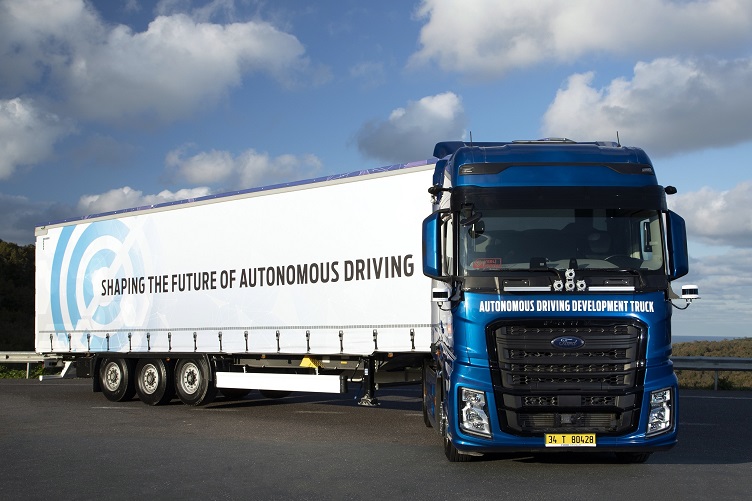 Ford Otosan will incorporate Velodyne's H800 lidar sensor into its autonomous truck program it will test and develop. Source: Velodyne
Ford Otosan, the largest production center for Ford's Europe division, is partnering with Velodyne Lidar Inc. to test light detection and ranging (lidar) sensors for safe navigation and collision avoidance in autonomous heavy commercial trucks.
Velodyne's Velarray H800 lidar is a solid-state sensor designed for advanced driver assistance systems (ADAS) and autonomous applications. The H800 provides long-range vision combined with a wide horizontal field of view (FOV) detecting objects early enough for vehicles to stop at safe distances in urban driving and avoid collisions on curves and turns. The H800 lidar sensor can be embedded in internal and external configurations on vehicle mounting locations.
The lidar sensor is designed for high resolution mapping and object classification tasks and will help Ford Otosan to create autonomous driving technology for driving situations such as curvy roads, potholes, intersections, on/off ramps, residential areas and roadways with unclear lane markings. The sensor can also operate in daylight and at night for the detection of vehicles, pedestrians, bicyclists, motorcyclists and more.
Ford Otosan is already using Velodyne's Alpha Prime lidar sensors for 360° surround-view perception technology for autonomous mobility. This lidar sensor allows autonomous driving in complex conditions for travel up to highway speeds.
"Autonomous vehicle technology, powered by lidar, can bring multiple efficiency and safety benefits to the trucking industry," said Burak Gökçelik, assistant general manager at Ford Otosan. "Our autonomous driving initiative with Velodyne looks to improve roadway safety by helping trucks understand and react to approaching road conditions and surroundings."
Self-driving trucks are seen as the next step in first-mile shipping and logistics that will help address the nation's current truck driver shortage that has roughly 50,000 unfilled driver positions. That shortage is expected to grow to 175,000 by the mid-2020s, according to sources in the trucking industry. These autonomous trucks will also help with the increase in demand that is expected in the e-commerce industry, requiring more trucks on the road.
Automation will allow trucks to run all day and night with minimal effort from human drivers or people monitoring the trucks externally. Companies are now establishing educational training to guide skilled truck drivers in the use of autonomous truck technology.
Along with traditional truck vendors — such as Daimler, General Motors and Ford — several startups are also developing autonomous trucks in order to take advantage of the emerging market. TuSimple, Locomation, Torc (which was acquired by Daimler), Kodiak Robotics, Ike, Einride and many others are developing their own systems and vehicles to change the market for first-mile shipping and logistics.