Ferry marks five years of methanol-fueled operation
S. Himmelstein | April 16, 2020
The first ship to use methanol as a marine fuel has marked five years of continuing service. Owned and operated by Stena Line of Sweden, the 240 m long Stena Germanica was converted to run on methanol fuel in early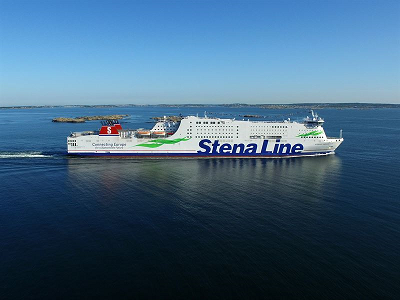 The ferry has operated with a Wärtsilä engine burning methanol fuel for five years. Source: Stena 2015.
The ferry was retrofitted with a fuel-flexible Wärtsilä 4-stroke engine with a propulsion power output of 24 MW that can run on methanol or traditional marine fuels. The conversion entailed installation of new dual-fuel injection nozzles, which are capable of injecting both methanol and diesel.
Supplied with methanol from Canadian supplier Methanex Corporation, the Stena Germanica can transport 1,500 passengers and 300 cars between Gothenburg, Sweden, and Kiel, Germany.
The increasing use of methanol as a marine fuel will help vessel operators comply with new sulfur oxides emission regulations implemented by the International Maritime Organization. Use of the alternative fuel, which is available in 88 of the world's 100 top ports, can reduce sulfur oxides emissions by 99% and curb nitrogen oxides emissions without exhaust after-treatment.