High-performance plastics for 3D printing
Jonathan Fuller | April 14, 2020
3D printing is increasingly used in diverse applications, from a maker's garage workshop to an automotive manufacturer's production line. This huge range of uses means a wide variety of materials are used in 3D printing, including metals, polymers like nylon and polypropylene, and even metal- and wood-filled filaments.
In the polymer space, ABS and PLA are low-cost options that provide sufficient strength to craft figurines and other objects, and polycarbonate and nylon can be used to create engineering-grade parts. But high-performance 3D-printing in the aerospace, automotive and medical device industries requires thermoplastic materials like polyether ether ketone (PEEK) and polyetherketoneketone (PEKK).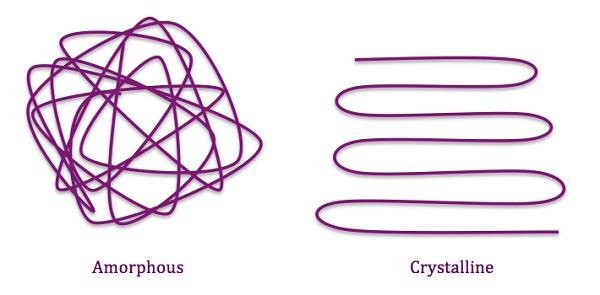 An amorphous versus crystalline polymer structure. Source: CPNikadee / CC BY-SA 3.0
The primary advantage of materials like PEEK and PEKK is their semi-crystalline structure. In contrast to commodity polymers like ABS, high-performance thermoplastics exhibit superior characteristics in 3D-printed parts, such as mechanical strength, thermal resistance and suitability for biological and medical applications.
Learn more about PEEK, PEKK and other high-performance thermoplastics in this free on-demand webinar presented by AON3D.