Watch: New drying solution set to cut costs for the cable and wire manufacturing sector
Engineering360 News Desk | March 12, 2020
U.K.-based Air Control Industries (ACI), a developer of industrial air movement solutions, has launched an innovative new range of cable drying products that are set to transform the cable, wire and extrusion industry.
Putting an end to quality-check failures due to the presence of moisture in production, ACI's new solution is set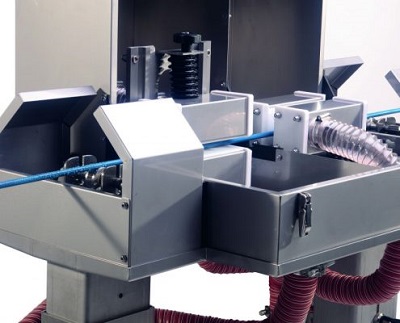 Source: Air Control Industriesto save considerable manufacturing costs for the extrusion industry.
Specially engineered to effectively remove residual moisture from water-cooled insulated wire, cable and extruded products, the company's cable dryer and profile dryer combination atomizes water and then collects residual moisture. Particularly effective in small diameter production – where quality failure is common due to the presence of moisture – ACI's solution enables reliable production rates of up to 1,200 meters per minute, proven to be the fastest drying speed currently available on the market.
Designed to achieve both major running cost savings and vastly improved cable and wire drying efficiencies, ACI's blower-driven units bring the added benefit of reduced energy consumption, compared to air wipe alternatives.
Capable of drying cable ranging from 0.2 mm to 65 mm in diameter, ACI's drop-in cable dryer unit, which is just 950 mm long, can be used independently of the profile dryer, which is most valuable in the production of small diameter cable, wire and extrusion.