Emissions continue to decline at US power plants, says EPA
S. Himmelstein | February 25, 2020
Emissions of major air pollutants from power plants in the contiguous U.S. declined in 2019 relative to 2018 as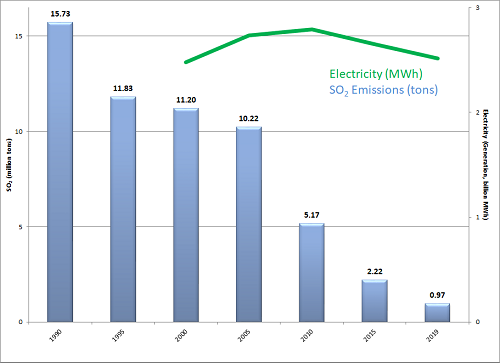 Sulfur dioxide emissions declined from 15 million tons in 1990 to 0.97 million tons in 2019. Electricity use increased from 2.23 billion MWh in 1997 to 2.51 billion MWh in 2019. Source: EPAelectric generation decreased by 3%, according to U.S. Environmental Protection Agency (EPA) data.
Sulfur dioxide emissions posted a 23% decline from 2018 levels while nitrogen oxide emissions fell by 14%. Emissions of both pollutants slipped to under one million tons for the first time since implementation of the Acid Rain Program. Carbon dioxide, mercury and ozone season nitrogen oxide emissions declined by 8%, 13% and 13%, respectively, relative to 2018.
The data also reflect a longer term downward trend in power plant emissions: Annual sulfur dioxide emissions declined by 94% to 0.97 million tons and nitrogen oxide by 86% to 0.88 million tons between 1990 and 2019. Greenhouse gas emissions from power plants dropped by about 20% since 2011.
The graph explores data depicting emissions and heat input from power plants, and compares annual emission data from 2018 with 2019 and longer term data at the facility level.