Johns Hopkins engineers develop snake robot for search and rescue
Marie Donlon | February 27, 2020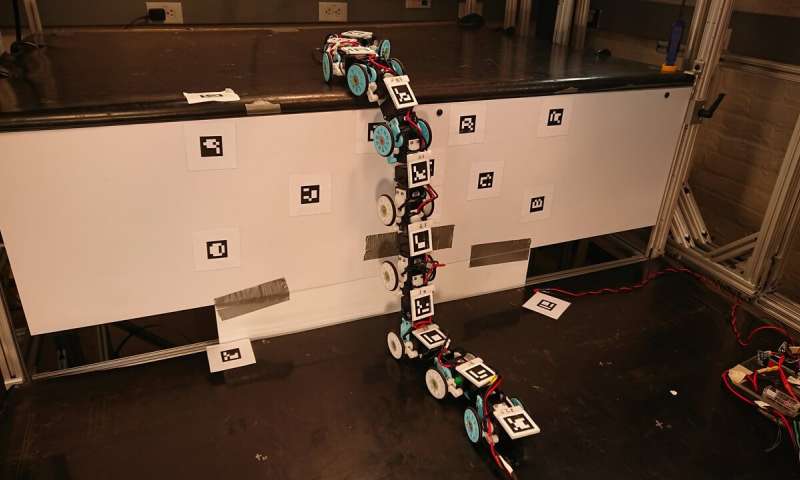 Johns Hopkins University's Terradynamics Lab created this snake robot to mimic its animal counterpart. Source: JHU/Will KirkEngineers at Johns Hopkins University have developed a snake robot that can navigate difficult terrain to potentially perform functions associated with search and rescue missions.
Taking inspiration from nature, the engineers developed the snake robot so that it can climb stairs as well as traverse rough terrain, such as rubble, debris and other obstacles one might encounter in the aftermath of a disaster.
To accomplish this, the engineers watched footage of snakes in motion and developed an internal suspension system for the robot snake's body to mimic how snakes "wriggle" themselves. The system enables the robot to mimic the wriggling motion by compressing each of the body's segments into the surface below it when appropriate.
In order to make the robot suitable for possible search and rescue missions in the future, the Johns Hopkins team will continue to improve the robot's ability to scale large obstacles.
The snake robot joins several other nature-inspired robotic counterparts developed for a host of applications including search and rescue missions. An international research team has developed electronic fish to test in place of live fish to determine how well the live fish navigate through hydroelectric power plants. Meanwhile, a nearly indestructible cockroach-inspired robot was developed by researchers at the University of California, Berkeley, to assist with search and rescue missions while researchers from Massachusetts Institute of Technology's (MIT's) Biomimetic Robotics Laboratory have developed a series of playful mini robot cheetahs that could one day perform elder care tasks or assist emergency first responders.
The snake robots are detailed in an article titled "Robotic modelling of snake traversing large, smooth obstacles reveals stability benefits of body compliance," which appears in the Journal of Experimental Biology and Royal Society Open Science.
To see the robot snake in action, watch the accompanying video that appears courtesy of Johns Hopkins University.