Tracking wildlife diversity with environmental DNA
S. Himmelstein | January 17, 2020
Camera trapping is widely used to monitor the presence and distribution of terrestrial mammals. This wildlife tracking option is time and maintenance intensive and often fails to detect the presence of small mammals. The potential for environmental DNA analysis to provide a more cost-effective means of animal identification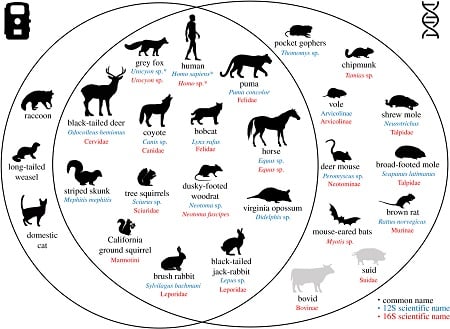 Venn diagram between species recorded by camera traps and species detected with environmental DNA. Species known to be present in the study area are in black; those absent from the study area but detected with DNA are in grey. Source: K. Leempoel et al.and monitoring was examined by Stanford University researchers.
The process relies on DNA extraction and sequencing from discarded animal materials, such as hair, feces or skin, followed by comparison to online DNA sequence databases for species identification. The researchers used long-term camera-trapping data to compare species identified from soil surface environmental DNA collected on trail segments located in front of six camera traps to species recorded by these cameras.
Almost every animal that nearby camera traps spotted in the previous four years was also identified on the basis of environmental DNA. Genetic evidence was also documented for bats, voles and other small mammals rarely captured by the cameras, and the method was demonstrated to distinguish between species of similar appearance. Camera survey data could not enable distinction between Norway and black rats, but the detection of Norway rat DNA in soil samples confirmed its presence in the study area for the first time.
With additional refinements to the methodology and DNA databases, the environmental DNA technique described in Proceedings of the Royal Society B could provide a valuable tool for biodiversity monitoring.