New non-flammable replacement for R-410A refrigerant
Shawn Martin | January 06, 2020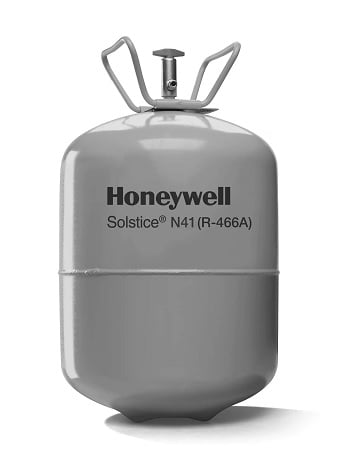 Source: Honeywell RefrigerantsHoneywell's news Solstice N41 refrigerant is classified by the American Society of Heating, Refrigerating and Air Conditioning Engineers standard ASHRAE 34 as a 466A refrigerant. It is a non-flammable zeotropic mixture of R32, R125 and CF3I. R32 and R125, components of R410A refrigerants, are blended with CF3I, a trifluoroiodomethane fire suppressant, to achieve a lower global warming potential (GWP) of just 733 and an A1 classification by ASHRAE for its non-flammability.
Solstice N41 is the industry's first non-flammable replacement for R-410A. It is a safe, energy-efficient, lower-GWP solution for stationary air conditioning applications. The new fluid has a GWP that is 65% lower than R-410A and it is considered non-ozone depleting.
The new refrigerant addresses regulatory required phase-down of high GWP products. It also meets safety requirements, is energy efficient and exhibits similar performance to R-410A refrigerant. Conversions from R-410A are completed with minimal changes to existing infrastructure and no additional training is required for installation and repair technicians. The non-flammable refrigerant is a cost-effective solution that helps minimize risks, requires less precautionary upkeep and simplifies storage and handling methods to help keep facilities running smoothly.