Video: ISS astronaut treated for blood clot
S. Himmelstein | January 03, 2020
The onset of an illness typically prompts a visit to the emergency room or a doctor's office, unless the patient happens to be two months into a six-month mission aboard the International Space Station (ISS). While performing an ultrasound as part of a vascular research study, an astronaut was discovered to have a blood clot in the jugular vein of their neck.
The patient was attended to via telemedicine technology after NASA contacted Stephan Moll, MD, a University of North Carolina Chapel Hill School of Medicine blood clot expert.
"When the astronaut called my home phone, my wife answered and then passed the phone to me with the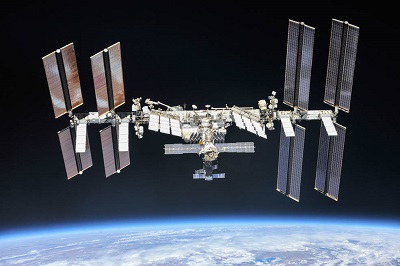 International Space Station. Source: NASAcomment, 'Stephan, a phone call for you from space.' That was pretty amazing," said Moll. "It was incredible to get a call from an astronaut in space. They just wanted to talk to me as if they were one of my other patients. And amazingly the call connection was better than when I call my family in Germany, even though the ISS zips around Earth at 17,000 miles per hour."
Blood thinners are commonly prescribed for the treatment of deep vein thrombosis (DVT), but the ISS medical stores contained only a limited supply. Moll and a team of NASA doctors prescribed a dose of an injectable drug sufficient to last 40 days, and a resupply mission to the ISS delivered an oral medicine on day 43.
The patient's condition was monitored for 90 days by onboard ultrasounds and periodic phone and email consultations with the Earthbound medical team. Follow-up examinations revealed a small volume of residual thrombus 24 hours after landing and no thrombus 10 days after landing.
This extraterrestrial medical episode underscores the need for additional research. "Is this something that is more common in space?" posed Moll. "How do you minimize risk for DVT? Should there be more medications for it kept on the ISS? All of these questions need answering, especially with the plan that astronauts will embark on longer missions to the moon and Mars."