Tooth-on-a-chip is new dental development
S. Himmelstein | December 26, 2019
Organ-on-a-chip devices are being developed for use in researching disease progression and prevention as well as drug therapies. An international research team has added to these biomedical uses of microfluidics with a tooth-on-a-chip designed to advance the understanding of biomaterial effects on live dental pulp cells.
The device mimics a tooth with a cavity and is composed of a thin section of human molar housed between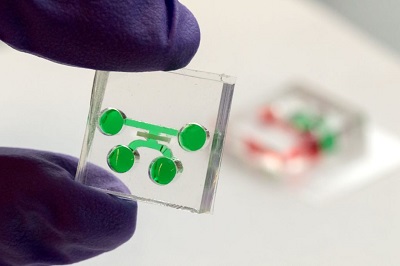 The device mimics a real tooth with a cavity. Source: Oregon Health & Science University/Kristyna Wentz-Graffmolded polydimethylsiloxane slides equipped with microfluidic channels. The movement and material impacts of fluids and bacteria can be monitored in real time by use of a microscope.
The tooth-on-a-chip was evaluated as a materials testing platform by assaying standard dental materials for cytotoxicity, cell morphology and metabolic activity. All of the dental materials exerted cytotoxic effects in both on-chip and off-chip systems, and dental pulp cells showed higher metabolic activity on-chip relative to standardized off-chip controls.
Researchers from Federal University of Ceará (Brazil), University of Campinas (Brazil), University of South Dakota, Oregon Health & Science University and Knight Cancer Institute (Oregon) hope that the system could be used to improve cavity-filling or cavity-prevention solutions, and to personalize treatments for patients.