Scientists develop black carbon-based sensor for detecting explosives, pollutants
Marie Donlon | December 02, 2019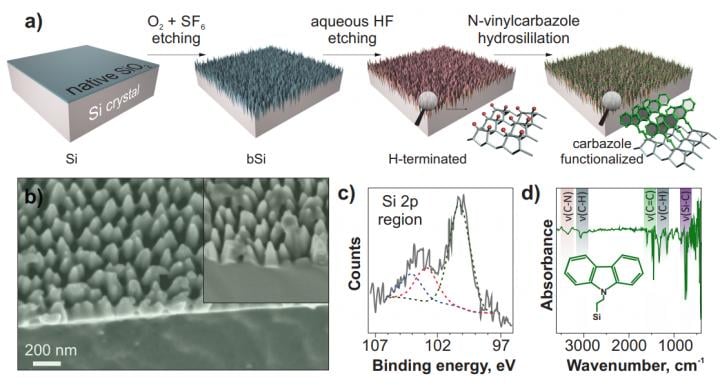 (a) Schematic illustration of the fabrication procedure. (b) Side-view SEM image of the functionalized b-Si inset shows bare b-Si for comparison). (c) Si 2p high-resolution XPS spectrum (solid curve) fitted with three components or chemical states (dashed curves). (d) Normalized zero-order absorbance (1-R) FTIR spectrum of cbz-bSi. Inset schematically shows the structure of the carbazole molecule. Colored areas highlight several identified vibration bands of the carbazole. Source: FEFUA team of scientists from several participating institutions has created a black silicon-based detector capable of detecting the presence of nitroaromatic compounds associated with explosives and toxic pollutants, in trace amounts.
The sensor, created in collaboration by scientists from Far Eastern Federal University (FEFU), Far Eastern Branch of the Russian Academy of Sciences, Swinburne University of Technology and Melbourne Center for Nanofabrication, is based on black silicon devised from the reactive etching of silicon substrates. According to the team of scientists, etched silicon exhibits a nanostructured spiky surface with optical properties that are unique. Following the etching process, the surface is covered in a monolayer of carbazole molecules — a process called chemical functionalization where the molecules enable the substrate to bind and disperse nitroaromatic compounds on the surface.
The monolayer of carbazole then leaves the device sensitive to nitroaromatic substances including nitrobenzene, o-nitrotoluene and 2.4-dinitrotoluene. Such nitroaromatic compounds, according to scientists, are generally found in wastewater discharged from military facilities as well as from plants that manufacture paint. Likewise, the substances are largely associated with explosives. The black silicon enables the sensor to detect the presence of these substances within minutes by detecting changes in the luminescence spectrum of the carbazole that reacts with the nitroaromatic molecules.
The research appears in the journal ACS Sensors.