Automotive Lightweighting with Adhesive Bonding
Gary Kardys | November 12, 2019
The automotive industry is increasingly employing composites, ultrahigh-strength steels and low-density alloys such as aluminum and magnesium to lightweight vehicles. These new material combinations often require new bonding technologies. Consumer demand and government regulation are drivers behind the trend because automotive lightweighting can increase fuel efficiency, reduce emissions and improve vehicle performance in areas such as range and acceleration. Fuel economy can be improved by 6% to 8% with a 10% weight reduction.
In many cases, joining components with welding processes is no longer an option as auto OEMs replace traditional high-strength low-alloy steel construction with composites. Composites assemblies require bonding with adhesive resins or fasteners. The adhesive bonding of automotive components is more attractive than mechanical fastening for several reasons. Fasteners can require additional operations on the automotive parts such as drilling or drilling and tapping of holes. Manual assembly or specialized tools and automation are required to feed, align and insert screws, bolts, washers, rivets and nuts into components. Threaded fasteners must be properly torqued to provide their design-holding power. Even if properly tightened, threaded fasteners can loosen overtime from vehicle shocks and vibrations. Fastened joints are susceptible to fretting, which is a type of corrosion induced by micromotions in the joint. Fretting can reduce the fatigue strength of a material. Fasteners do not have as pleasing an appearance and often required additional snap-on covers to hide the fastener head or nuts. Fastened and welded joints can also create stress concentrations in a part, which can lead to localized yielding or increased fatigue failures. Adhesives can greatly reduce the number of vehicle parts such as fasteners.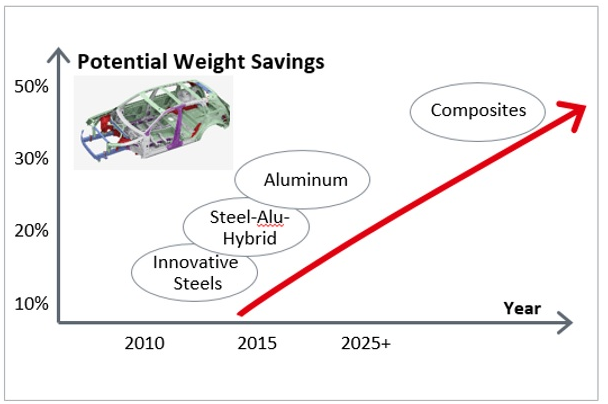 Figure 1. Potential weight savings of various automotive lightweighting materials. Source: Henkel Adhesive NAWhile lightweight alloys can be welded, aluminum and magnesium are much more difficult to join reliably with conventional arc welding compared to steel, so adhesive bonding can be a better option to consistently provide high-quality bonds. In addition, many automotive OEMs are pursuing a multi-material approach where combinations of steel, carbon fiber composites and aluminum are utilized. The multi-material design allows the use of high strength or stiffness in areas of a vehicle assembly experiencing high loads or stress. Adhesively bonding stiffening ribs with a higher modulus material to a low modulus material shell could improve the overall stiffness compared to a design using only the low modulus material.
However, multi-material combinations can present a dissimilar materials problem. The dissimilar material couples can cause corrosion problems in areas exposed to water or moisture and an electrolyte. Materials with large differences in electrochemical potential are prone to galvanic corrosion. For instance, carbon is very noble compared to aluminum or steel. The noble metal typically experiences reduced corrosion or protection while the less noble metals are subject to high corrosion rates. Zinc coatings galvanically protect steel through the same sacrificial process. In Northern climates, the use of sodium chloride or magnesium chloride salt to reduce icing can greatly increase the galvanic corrosion problem. Dielectric adhesive bonds can alleviate the galvanic corrosion problem by electrically insulating the two metals and stopping galvanic current flow.
Another problem with bonding dissimilar metals is handling the stresses induced by differences in thermal expansion. If one material expands more with a change in temperature, then thermal stress will be induced at the joint interface. The stresses from the material property differences could cause the material to buckle, break or detach when exposed to temperature changes. A flexible adhesive over a larger surface area might better accommodate the coefficient of thermal expansion differences compared to welded or fastened joints.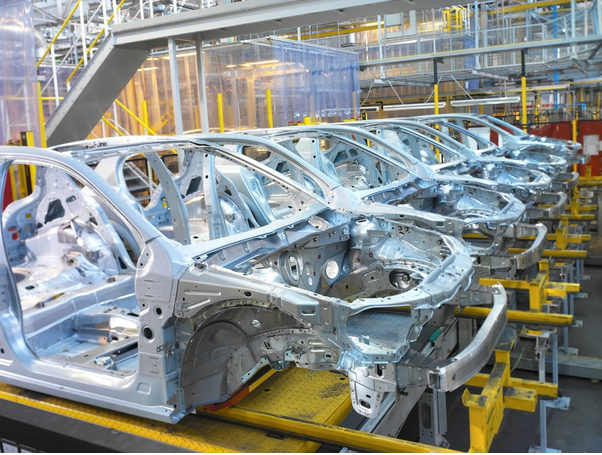 Figure 2. Henkel provides a comprehensive product line of adhesives for multi-material body in white (BIW) assembly, which are optimized for NVH properties, corrosion protection, paint adhesion, paint shop anti-chip (underbody) coating, seam sealing and structural reinforcement. Source: Henkel Adhesives NAVehicle comfort and ride quality are important automotive attributes of car-buying consumers. Adhesives can improve the noise, vibration and harshness (NVH) characteristics of vehicles. Damping of shocks and vibrations can be accomplished with elastomeric and foam adhesive bonds. Foam adhesive bonds also have excellent acoustic or soundproofing properties, which can be leveraged to quiet external and engine noise. Reducing the transmission of vibrations and shock loads can improve fatigue life of other components in the automobile. Adhesive bonds can be designed to provide additional benefits such as thermal insulation, which could enable better temperature control with the automotive interior. The ability of an adhesive to seal the surfaces being joined is used to prevent water ingress into electronic devices and seal filter media in engine air filters.
While adhesive bonds have many advantages over fasteners and welded joints, adhesives also have their own set of drawbacks. For instance, most high strength structural adhesives joints are permanent and not easily removed for disassembly and repairs. Adhesives are typically organic polymer-based and therefore have lower strength and use temperatures compared to welds and fasteners. Engine and exhaust components are not likely to be good candidates for adhesive bonding. Since adhesives are lower in strength, joints typically require a larger surface area compared to welding and fastening, which might require part redesigns. Thermoset adhesives also require heat and temperature to fully cure and develop full strength.

Chemists and materials engineers at adhesive OEMS are diligently experimenting with new resins, fillers, additives, and formulation to overcome the adhesive bonding challenges as well as develop future products with superior attributes for automotive joining and assembly.