Sweat provides clues to behavioral problems in autistic populations
S. Himmelstein | October 14, 2019
The ability to predict when an individual with autism spectrum disorder might engage in problem behavior could just be a matter of measuring indicators in sweat. The University of Missouri explored this predictive potential by use of wrist and ankle monitors to gauge changes in electrodermal activity, an indicator of nervous system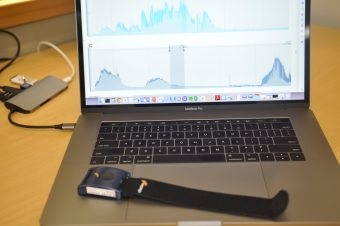 Using wrist and ankle monitors, researchers found a rise in electrodermal activity – which results from increased levels of sweat – 60% of the time before an individual showed behavioral issues. Source: University of Missouriarousal, in sweat.
Eight autistic adolescents in a residential school setting were fitted with Q-Sensor pod wristbands or ankle bands and monitored for electrodermal activity at the beginning and end of problem behaviors. The subjects under observation displayed an increase in electrodermal activity, which is associated with an increase in sweat output, prior to engaging in problem behavior 60% of the time.
In many cases where an anticipatory rise was documented, the average amount of time that electrodermal activity increased before problem behavior started was over 10 minutes, which could provide a window of opportunity for intervention. Additional research is warranted to determine whether specific behavioral profiles are associated with certain patterns of electrodermal change so as to improve prediction efforts.