Water treatment selectively removes nitrates
S. Himmelstein | September 19, 2019
Agricultural runoff is a common source of excess nitrate levels in water resources, resulting in the degradation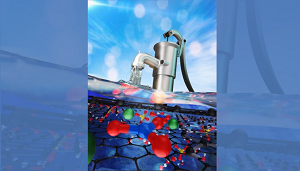 Nitrate is adsorbed by ultramicroporous carbon (black). Source: Ryan Chen/ Lawrence Livermore National Laboratoryof potable supplies. An economical and scalable treatment option for the selective removal of nitrates has been developed by researchers from Stanford University and Lawrence Livermore National Laboratory.
The remedial process relies on the use of ultramicroporous carbon as a capacitive deionization (CDI) electrode for selectively removing nitrate from an anion mixture. Simulations and cyclic voltammetry measurements demonstrated that nanometer-sized pores in the CDI preferentially screened out nitrates relative to sulfates and chlorides.
The CDI system was also observed to exhibit high nitrate selectivity at low voltages, reducing concentrations to below the U.S. Environmental Protection Agency mandated maximum contaminant level in drinking water of 10 milligrams per liter.