Nitrates are a ubiquitous water pollutant primarily derived from agricultural runoff. The contaminant can be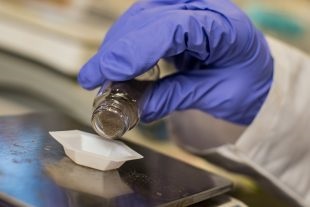 The indium-palladium nanoparticle catalysts clean nitrates from drinking water by converting the toxic molecules into air and water. Photo by Jeff Fitlow/Rice Universityinjurious to human health and is commonly removed from potable water supplies with ion-exchange filters. This approach is limited as the filters must be flushed periodically to enable reuse, and the flushed water brings a concentrated dose of nitrates back into the water supply.
A catalytic process devised at Rice University provides a more efficient purification route. The catalyst doesn't just remove nitrate – it converts the pollutant into nitrogen and water. The researchers covered about 40 percent of a palladium sphere's surface with indium to produce a highly active catalyst.
In collaboration with researchers from Purdue University and the University of Houston, the Rice team found that indium speeds up the breakdown of nitrates while the palladium prevents indium from being permanently oxidized. With the addition of hydrogen-saturated water, the palladium directs some oxygen to bond with the hydrogen and form water. As a result, indium remains in a reduced state where it's free to decompose nitrates.
Rice University's Nanotechnology Enabled Water Treatment Center scientists will next design a flow system to show proof of concept that the technology can be commercially viable.