Drone technology detects and maps lost ordnance
Marie Donlon | September 09, 2019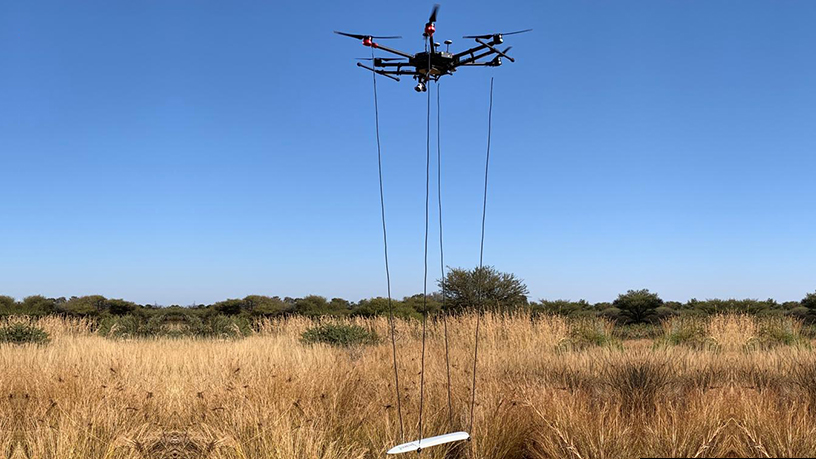 This is the drone that Skymotion Solutions is trialing. Source: Skymotion SolutionsSkymotion Solutions, a South Africa-based unmanned aerial vehicle (UAV) charter company, is trialing a drone technology that detects and maps unexploded weapons.
Called unexploded ordnance (UXO), the weapons can include bombs, bullets, landmines, grenades and naval mines, among other weapons. UXO poses a significant risk to anyone who happens upon them, even decades after they were discarded or deployed. Largely an issue in war-torn regions, UXOs kill 15,000 to 20,000 people every year worldwide, and injure more.
The Skymotion Solutions' team is exploring drone technology that can detect and map the locations of UXO, and can be used to refind and then detonate the devices in the future.
The team realized that they would need drones with two or more rotors, dubbed multirotor drones, to keep the UAVs aloft for long periods of time. Standard drones, which typically have one rotor, have short flight times and require frequent battery replacements that can cause flight-time interruptions. An additional challenge for the team was the added weight of a radar system, which further burdens the craft's electrical system.
"Our key to success will be the use of multirotor UAVs with flight times in excess of three hours and payload capacity exceeding 50 kg. This will enable us to focus more on detecting and mapping and, who knows, perhaps even develop disarming methods in the near future," said Kobus Du Plessis, director of Skymotion Solutions.
Currently, the team is trialing those drones with mounted radar systems and plans to explore lighter weight radar systems in the future. Skymotion is also in talks with a supplier who has already developed technology for detecting and mapping UXOs in the Philippines.
Compared with current methods of detection and detonation, the Skymotion Solutions team believes that the multirotor UAVs move faster, detecting and mapping UXO locations without physical contact and risk of injury.
The team suggests that the new drones will largely be used in military applications due to the thousands of military personnel that have been either injured or killed by improvised explosive devices.