Fracking fingered as a methane emission source
S. Himmelstein | August 20, 2019
The recent increase in atmospheric methane concentrations may be partially attributed to hydraulic fracturing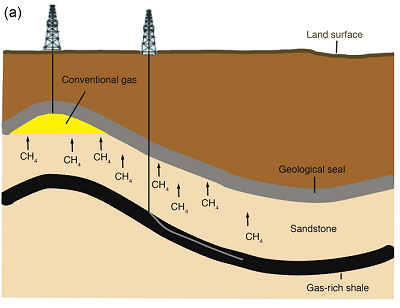 For conventional natural gas, methane migrates from shale through semipermeable formations over time. Shale gas is methane that remained in the shale formation and is released by means of directional drilling and hydraulic fracturing. Source: Redrawn from U.S. Energy Information Administration (2016) with data from 2017.activity in North America, according to Cornell University researchers.
A change in the carbon isotope signature of atmospheric methane from carbon-13 to higher concentrations of carbon-12 coincides with a period of intensive shale gas development in North America. As the methane in shale gas is depleted in carbon-13 relative to conventional natural gas, fracking operations may be implicated as the source of elevated methane concentrations during this time.
The contributions of leakage from offshore oil and gas installations in the North Sea to rising atmospheric methane levels were also recently quantified.
The study published in Biogeosciences estimates that shale gas has contributed 33% of the global increase in all methane emissions since the year 2000. Increased emissions from shale gas of 9.4 teragrams per year corresponds to damage to public health, agriculture and the climate of up to $55 billion per year for each of the past several years.