Technique lets building materials broadcast radiological sources
S. Himmelstein | July 15, 2019
The ability to gauge whether bricks or any other common building material have been in proximity to enriched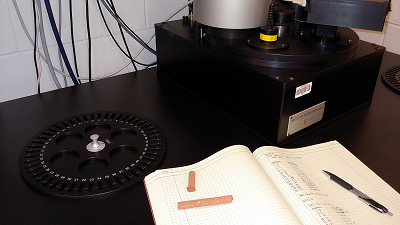 Radiation assessment equipment with brick samples. Source: North Carolina State Universityuranium would provide a new nuclear nonproliferation monitoring method. A retrospective dosimetry technique has been developed at North Carolina State University as a nuclear forensics tool to quickly reconstruct dose deposition profiles in small samples of building materials.
A simplified sample treatment process was devised to reduce the time-consuming processing burden commonly encountered in retrospective dosimetry studies. By use of thermoluminescence responses, the dose deposition profile of a brick sample could be reconstructed without the need for chemical treatment.
The method detects the radiation signatures of different nuclear materials, such as uranium hexafluoride or americium 241, even when these sources are no longer present. The sampling data can provide information on where and what types of radioactive materials of interest were stored.