New aerogel heats up solar collection efficiency
S. Himmelstein | July 03, 2019
The generation of solar-based heat at temperatures of 200° C required for industrial processes and domestic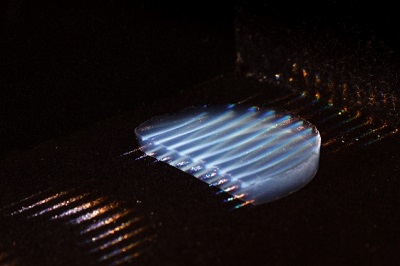 The new aerogel insulating material is highly transparent, transmitting 95% of light. Source: Lin Zhao et al.space heating requires use of solar concentrators. An alternative to these complex and cost-intensive systems was developed by materials engineers from MIT in the form of a silica-based aerogel sufficiently transparent to admit sunlight and with insulating properties that reduce heat losses.
The aerogel was applied to a heat-absorbing dark material in a passive collector and tested in outdoor winter temperatures below 0º C. The heat-absorbing material was demonstrated to maintain a temperature of 200º C, a temperature previously routinely attained with concentrating equipment relying on mirrors to focus sunlight onto a central point.
By eliminating the need for such complex components, the aerogel material can be applied in simpler systems to reach the desired high temperatures for residential space conditioning or industrial process heating. An aerogel-based solar heat collector could directly replace vacuum-based collectors used in some existing applications, providing a lower-cost option.