For Independence Day EIA profiles energy use since 1776
David Wagman | July 02, 2019
A combination of petroleum, natural gas and coal have made up at least 80% of energy consumption in the United States for more than a century.
Overall, U.S. energy consumption reached a record high in 2018 at 101 quadrillion British thermal units (Btu), of which more than 81 quadrillion Btu were from fossil fuels. Despite the increase, the fossil fuel share of total U.S. energy consumption grew only slightly from 2017 and was the second-lowest share since 1902.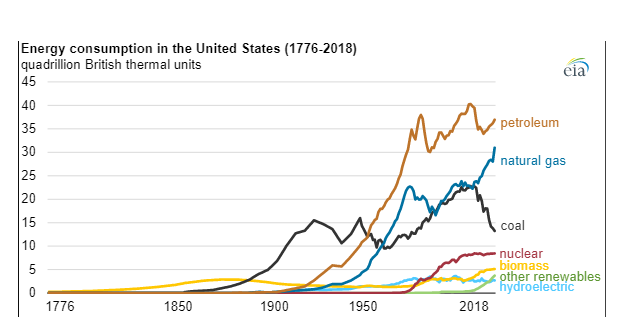 Source: EIAThe Energy Department's Energy Information Administration (EIA) offered the insights in its annual look at U.S. energy consumption since Independence Day 1776.
Energy consumption has undergone many changes in the nation's history, from wood as a primary resource in the 18th and 19th centuries, to the onset of coal and petroleum use, and to the more modern rise of nuclear power in the late 20th century and renewables in the early 21st century.
Gas growth
EIA said that the increase in fossil fuel consumption in 2018 was driven by increases in petroleum and natural gas consumption. Coal consumption fell by 4.3% — the fifth consecutive annual decline. U.S. consumption of coal peaked in 2005 and has declined nearly 42% since then, the EIA said. U.S. coal consumption fell to 687 million short tons in 2018, the lowest level of coal consumption in the United States since the 1970s.
Natural gas consumption rose in 2018, reaching a record consumption level of 82.1 billion cubic feet per day. Natural gas consumption has increased in 8 of the past 10 years, EIA said. Growth has largely been driven by increased electric power sector consumption. Overall, natural gas consumption has increased by 37% since 2005.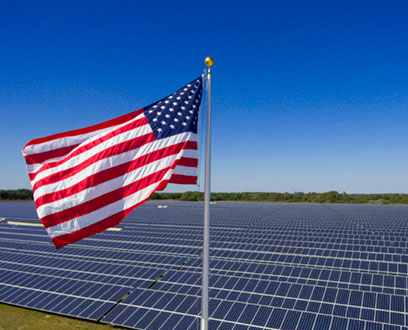 American flag with solar energy facility. Source: NextEra EnergyPetroleum consumption also increased in 2018 as petroleum product supplied reached the equivalent of 20.5 million barrels per day. EIA said that despite the increase, consumption remains lower than the peak level set in 2005. Petroleum has been the largest source of energy consumption in the United States since surpassing coal in 1950.
The renewable share of energy consumption in 2018 — which EIA said includes hydroelectricity, biomass and other renewables such as wind and solar — was 11.4%, slightly less than its 2017 share. The largest growth in renewables over the past decade has been in solar and wind electricity generation.