Clarke's patented shutter valve addresses fugitive emissions
Shawn Martin | April 29, 2019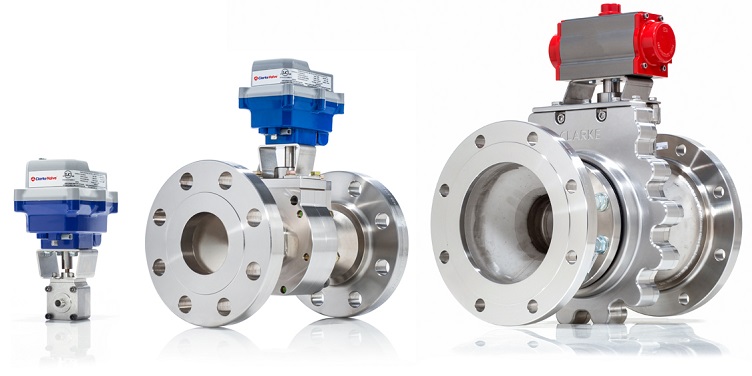 Source: Clarke Industrial Engineering
Clarke Valve has secured European Patent Office (EPO) protection for its innovative shutter valve technology, which delivers precision throttling and nearly leak-proof operation while inducing minimal cavitation with no apparent pressure drop.
EPO protection
Clarke's proprietary shutter valve is a compact and efficient control valve and their patent for a shutter valve with pivot arms, patent number EP2988044, is differentiated from other shutter valve designs as the three interlocking petals are mounted to a ring gear by pivot arms. This design reduces the size of the valve actuator and the centralized aperture accommodates a wide range of flow patterns from full open port flow down to a fine mist with a certified rangeability of 500:1. The shutter valve also features a unique bonnet and stem design that virtually eliminates fugitive methane emissions, a design flaw of existing control valves used in the oil and gas industry.
Valve certification
The new shutter valve is the first control valve to achieve American Petroleum Institute (API) 641 Certification, which is Type Testing of Quarter-turn Valves for Fugitive Emissions. When compared to low-emission globe valve a 95% reduction in methane emissions was reported. This benchmark allowed Clarke Valve to engage as an Oil and Gas Climate Initiative (OGCI) investment portfolio company. As a partner with OGCI, they are accelerating the implementation of their proprietary shutter valve technology in the oil and gas industry.
Yarmouth Research and Technology LLC conducted API 641 certification for Clarke's new shutter valve and through continued testing, they have further proven the concept of their carbon reduction technology as the valve has now achieved initial certification under ISO 15848-1:2015, "Industrial valves — Measurement, test and qualification procedures for fugitive emissions." This ISO standard has three certification levels that address external leakage of volatile air compounds through the valve stem, shaft seals or other valve body joints. Clarke Valve's shutter valve is certified to the first rating, CC1. It was evaluated and proven to emit less than 50 parts per million by volume (ppmv) of methane while enduring 20,000 cycles of operation between 40% and 60% open. Achieving initial certification is yet another milestone for Clarke's shutter valve and Yarmouth is overseeing the continuation of this test until all three class thresholds are met, including CC2 (60,000 cycles) and CC3 (100,000 cycles).