IMI Critical Engineering showcases new control valve at 2019 SPE Offshore Europe
Shawn Martin | September 10, 2019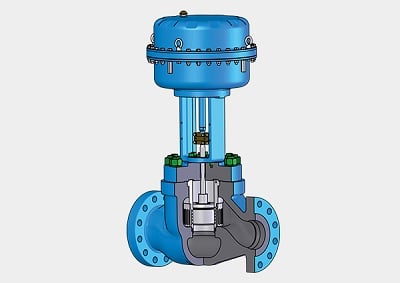 Source: IMI Critical EngineeringThe 100 DMT control valve showcased at 2019 SPE Offshore Europe was developed to serve a wide range of applications in the oil and gas industry.
The 100 DMT multi-trim control valve provides for high flow and advanced noise abatement. It is certified for Class A fugitive emissions, suitable for off-shore and on-shore applications, features a modular design and is available with multiple trim sizes within a single valve body envelope.
Multiple trim sizes provide for increased flexibility. The valve can be configured with single-stage, dual-stage, low noise and high flow trims providing for improved controllability and rangeability across a wide range of applications from separation, dehydration, degassing and liquefaction to refining with particular suitability for anti-surge compressor control. It is also available with several trim materials to best suit a range of corrosive media.
IMI Critical Engineering's new control valve is equipped with a single-acting pneumatic diaphragm actuator, a double-acting pneumatic piston actuator or optionally an electric actuator. The valve also features a blow-out proof stem design and is available with either standard stem packing, fugitive emission packing, low vacuum packing or graphite packing on request. It is a multi-functional control valve that can be tailored for a wide range of oil and gas applications.